baby basics
Our recommendations of warm, breathable, natural clothes for your baby...
---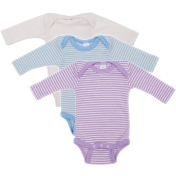 £21.99
"I just love these bodies; they are fine, soft, comfortable and warm when they need to be, cool when they don't. My son loves them; when he wears them at night, he seems to sleep better, and during the day when he's racing around he gets neither too hot nor too cold."
This is an excellent quality, long-sleeved baby-body in a fabric blended from pure silk and organic Merino wool. Lightweight, breathable and moisture-wicking, it's gentle and supple, ideal next to the skin all year round.
Personally recommended by many customers
Long lasting; excellent value
Flexible knit - easy to put on and take off
Great for cloth nappies(we recommend you size up though)
Nickel-free poppers at the crotch
30% pure silk, 70% fine organic Merino wool
...
---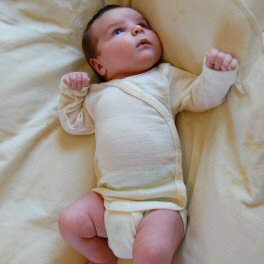 £23.99
An excellent design for babies who don't like things going over their heads! And a superb, gentle fabric - 70% Merino wool, 30% pure silk. With long sleeves.
Super-soft and nickel-free - perfect for young babies.
Both wool and silk help your baby maintain a stable temperature
Very easy to put on (just compare it to a cotton one! Even getting the arms in is a cynch).
Machine-washable too! (see below).
...
---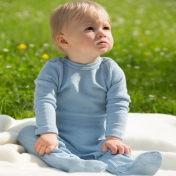 £30.00
A simple babygrow for day or night in soft, natural, warm and breathable wool and silk.
70% Merino wool and 30% silk
poppers at each shoulder and at the crotch for easy changing
...
---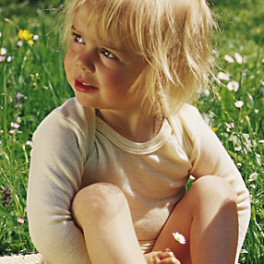 £15.99
With all the properties of soft Merino wool, but without the poppers between the legs! A practical underlayer for potty training or for when you want it to go over trousers. Can be used as a top or a vest.
Warm and breathable organic Merino wool
Envelope neck to make putting it on and taking it off easy and painless!
Long sleeves
Excellent value
...
---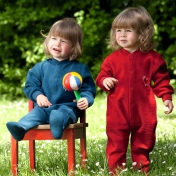 £33.00
Our most popular organic Merino wool all-in-one! Wonderful ruby-red or natural pyjamas with embroidered woolly sheep, which double as a warm and comfortable babygrow. Ideal baby pyjamas as they are soft and gentle on the tummy, and our older children wear these as nightwear in Autumn, Winter and Spring :)
With feet to keep little toes warm and snug too.
Warm, natural, breathable for healthy skin and organic
Wonderful Merino wool works with the body to keep it comfortable, giving your little one a more relaxing, deeper, healthy nights sleep
Nickel-free poppers too to keep skin calm and relaxed
Sizing
The sizing of these babygrows is generous, with room for cloth nappies. Engel altered their sizing in 2012 from single to double European sizes. ...
---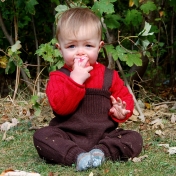 £21.99
"
I just wanted to say how AMAZING the Disana merino dungarees are! They stretch and move with my baby without pulling or being restrictive... and they look awesome."
Thank you Dorothy! It's so true - the soft, breathable Merino wool keeps chests and bodies warm and the dungarees flex with your child's every movement.
Gently hug the chest and allow your child to move
Perfect for wriggly babies and active children alike
Natural nut buttons for the finishing touch.
Scroll down for more customer feedback. ...
---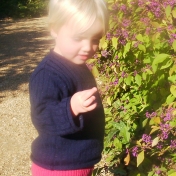 £26.99
"This has been the greatest jumper we have ever had." Marko Fribert.
Light enough for Autumn and Spring, and with a delicate knit which will keep your baby or child from feeling chilly without piling on the layers.
It's stretchy too, giving a great fit and going over heads easily.
100% pure organic Merino wool
Baby-safe, eco-safe dyes
Doesn't itch and becomes softer with use
For bigger children, this wool jumper is available in navy, grey and red for school uniforms. ...
---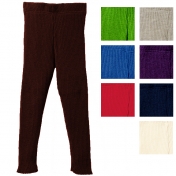 £16.99
These knitted Merino wool trousers are ideal for young babies and busy toddlers, and for keeping longer legs warm too.
Very flexible and soft. With no restrictions on movement, they flex with your little one.
Gentle around the tummy.
100% organic Merino wool.
"Wonderful, easy trousers - we use them constantly throughout the year and my children think they're fab." Helen East, owner. ...
---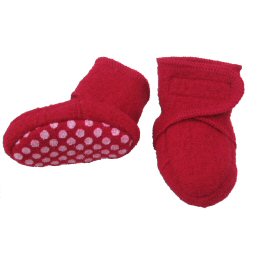 £16.99

Sturdy boiled wool fleece booties with grippy soles and very solid Velcro fastenings that make sure they really stay on. Great for young babies and crawlers, and also good for toddlers for in the home as they grip on wooden floors and tiles! Very popular with customers coming back to size up.
"These booties really DO stay on. My 10-month-old once wore them for 36 hours in a row!.... (don't report us...)" Helen East, owner.

Sizing
Size 1: ~3-9m, average 10cm long sole (outside),
Size 2: ~12-24m, average 14cm long sole (outside)(may be labelled as 8-12m by Disana.) ...
---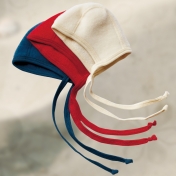 £9.99
Simply beautiful bonnets! Made from 100% organic Merino wool fleece, these bonnets are so soft and gentle you will know you are giving your baby the comfort and protection he or she deserves.
Our warmest bonnet, lovely for Autumn and Winter
Your baby's ears are protected from wind and cold
Ties under the chin and stays on!
Non-itchy, very breathable Merino wool for sweat-free comfort.
Simply a soft design that will grow with your baby! Yep, as they are made of wool, these bonnets will grow a little with your baby and fit for some time. ...
---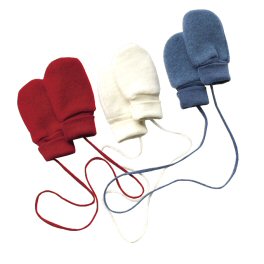 £6.99
Softest of Merino fleece gloves! So soft and fluffy, they make the perfect first baby-gloves for Autumn, Winter and Spring.
Breathable and water-resistant
Stay warm when wet
A string to keep both gloves together!
One size, 0-6m
The perfect first baby gloves! ...
---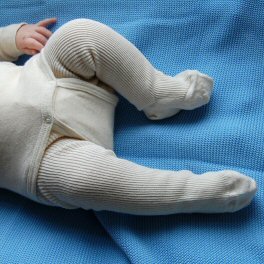 £11.99
Gorgeous, super-soft pure wool tights available in natural and navy. Warm and breathable to keep little legs warm and skin healthy, we've chosen these because of their soft knit and flexibility.
Super soft, non-itchy, pure fine wool
Naturally stretchy
Easy to put on and take off
Great softness for newborns all the way up to 5 year-olds! ...
---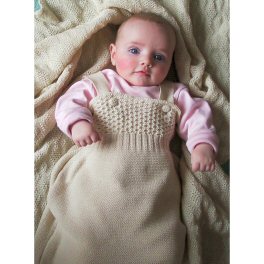 £24.99
Gorgeous knitted sleeping bag in natural, breathable Merino wool. Wool aids sleep and this is our favourite thing in our range.
100% organic Merino wool
GOTS and IVN certified
Designed to keep the chest warm
Figure-hugging above the waist, preventing it from slipping up around the shoulders.
Customer feedback is excellent (see below)
Disana make the Size 3 sleeping bags exclusively for Cambridge Baby!
As it is made of wool, this sleeping bag will help your baby relax, which promotes healthier sleeping patterns. ...