blankets & bedding
---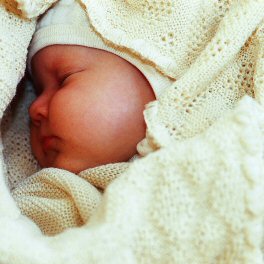 £38.00
One of our most beautiful products! The lightest and prettiest of blankets with all the natural properties of pure, organic Merino wool.
The health benefits of wool compared to synthetics are being revealed time and time again - for example, it's better for the health of premature babies, it's better for the skin of hospital patients and sleeping with wool around is better for you yourself! This blanket makes pure Merino wool even more of a pleasure.
100% organic Merino wool
80 x 100cm
Delicate diamond cellular pattern
Perfect for the pram and the cot and as a gift for a new baby
Makes a lovely shawl for a new mum - especially when breast-feeding in the middle of the night!
A gentle, versatile blanket for newborn babies and Mums! ...
---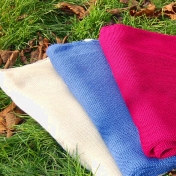 £70.00
Lovely, large knitted blankets for your baby or child in pure, organic Merino wool - warm and soft to the touch and of lasting organic quality.
Organic Merino wool from organically raised sheep, ecologically sound and skin-friendly.
Large sizes for your baby's cot or child's bed.
Natural Merino wool is soft and breathable, and helps your child relax into sleep through creating a dynamic microclimate which helps regulate temperature. Magic.
...
---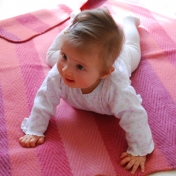 £49.00
A traditional lambswool blanket of outstanding quality: beautiful colour blends, soft wool and careful finish.
Lambswool from ecologically raised sheep
Soft and breathable
Beautiful colours
Available in 3 sizes: baby, child and Single Bed.
All the wonderful warmth of wool and natural breathability in this beautiful blanket. ...
---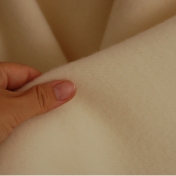 £45.00
A beautifully made, natural blanket in softest lambswool; a blanket that you and your child will cherish.
Lovingly made from soft lambswool from ecologically raised sheep.
All the wonderful warmth and breathability of wool in this beautiful blanket.
A traditional wool blanket that will last a lifetime, and which your child will treasure forever. ...
---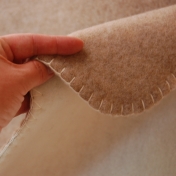 £59.00
Two lovely layers of fleeced undyed eco-lambswool in soft natural tones combined in one beautiful blanket.
100% soft natural undyed wool
medium-weight blanket
Double layer: 2 light layers
Lovingly made from soft undyed lambswool from ecologically raised sheep.
A traditional blanket that will last a lifetime. Your child will treasure it forever.
...
---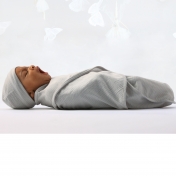 £39.00
This lovely 100% Merino wool swaddling blanket/wrap has a soft cotton feel while providing your baby with wool's moisture-wicking and temperature regulating properties.
100% pure Merino wool
1.2 TOG
Free Merino wool baby beanie hat!
Delicate embroidered children motif on the blanket and hat
Wrapping instructions included on the label
And this delightful wrap comes in its own little muslin bag - ideal as a welcome present for new babies! ...
---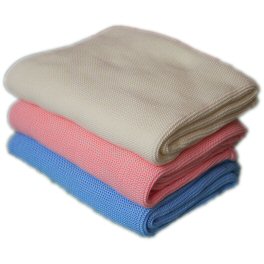 £26.08
£20.86

Save yourself £5.22
Last one left in pink!
Made from 100% organic cotton, this receiving blanket (for newborn babies) has a great knit allowing it to stretch as your baby grows, keeping him or her snug and protected.
100% Organic Cotton
80cm x 100cm
For snoozing in the cot or travelling the pram
Perfect for snuggling...
This gentle blanket makes a perfect as a newborn baby gift! ...
---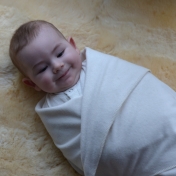 £22.00
These are beautifully soft first blankets and undersheets which always feel soft to the touch. They are particularly useful if your baby wakes when being put down to sleep on a cooler surface, as brushed cotton feels warmer and is less "jolting", helping your little one to stay asleep. They come highly recommended by Janet Balaskas and The Independent... (see below)
100% natural Organic Cotton
Unbleached - safe for sensitive skins
80 x 80 cm
Machine-washable at 60°C
2 per pack - use one while the other's in the wash! ...
---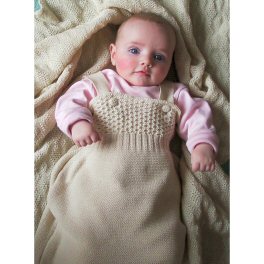 £24.99
Gorgeous knitted sleeping bag in natural, breathable Merino wool. Wool aids sleep and this is our favourite thing in our range.
100% organic Merino wool
GOTS and IVN certified
Designed to keep the chest warm
Figure-hugging above the waist, preventing it from slipping up around the shoulders.
Customer feedback is excellent (see below)
Disana make the Size 3 sleeping bags exclusively for Cambridge Baby!
As it is made of wool, this sleeping bag will help your baby relax, which promotes healthier sleeping patterns. ...
---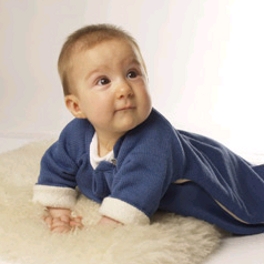 £68.00
The finest warm sleeping bag we've seen. With a knitted Merino wool outer layer, and lined with organic fleecy cotton, it's ideal for extra warmth in cooler nurseries. It's rare to find a sleeping bag with arms too, which so many customers have requested, so we're delighted to have found this!
100% organic cotton inside, 100% Merino wool outside.
Zips from shoulder round the side and across the bottom.
Suits cooler nurseries (<18C).
...
---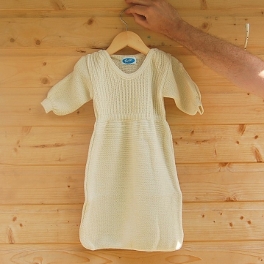 £45.00
Similar to our best-selling Disana knitted sleeping bag, but with knitted arms and covering whole chest and shoulders for extra warmth. Like the Disana bag, it has a "grippy knit" across the chest to keep it in place.
100% soft Merino wool which aids sleep
Buttons at each shoulder
Designed not to ride up!
Medium weight for average nurseries through Autumn, Winter and Spring
...
---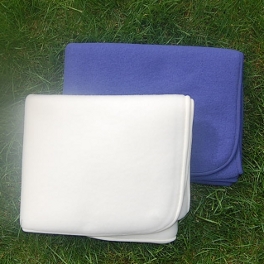 £29.99
Oooooh, so very soft and snuggly! We promise you this is the softest, fleeciest, most natural and gentle blanket you can find for your baby. You will know your little one is bathed in a gentle, comfortable warmth, that your baby is being helped to grow safe and strong while they sleep.
100% Merino wool
Soft, gentle, comfortable
Naturally moisture-wicking
The warmth of fleece without the polyester!
...