Newsletter
Keep yourself up to date with news and discounts on natural clothing!

I have ordered several items over a few years and the delivery is very fast and I appreciate the paper packaging. They have also been brilliant at exchanging items when they didn't fit. ..

helen, ABERGAVENNY
Home

2-6 yrs

trousers, leggings & shorts

leggings
leggings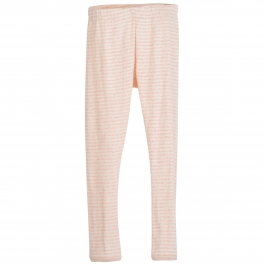 1 to 11yrs
Simply delightful organic cotton stripy leggings in beautiful colours. Very, very comfortable.
stylish Danish design, beautifully finished
100% organic cotton
melange dyed and super soft
...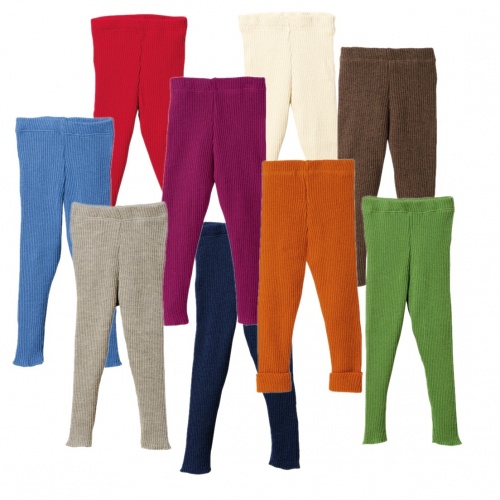 0 to 10yrs
£15.99

Now end-of-line in pink and orange!
These knitted Merino wool trousers are ideal for young babies and busy toddlers, and for keeping children's longer legs warm too.
soft very flexible - lets your little one move freely
100% organic Merino wool
gentle around the tummy with the nurturing warmth of wool
Note: sizing recommendations have been adjusted for a better fit. See sizing tab for details
"
Wonderful, easy trousers - we use them constantly throughout the year and my children think they're fab.
" Helen East, owner. ...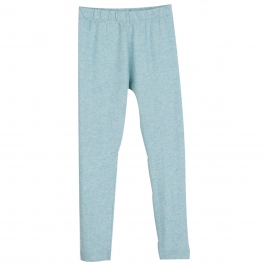 1 to 9yrs
Staple leggings for girls and boys, with a super soft feel - Danish style! Put it on, and never take it off...
100% super-soft GOTS certified organic cotton
elasticated waist
straight cut
...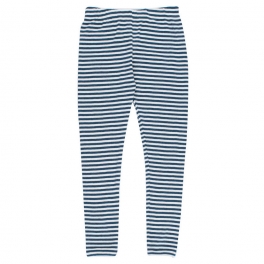 2 to 6yrs
£19.00
Super-soft leggings in pure organic cotton. The perfect look for comfortable everyday wear, on their own or under skirts and safe and healthy too.
slim stripes and fit
100% soft organic cotton
gentle melange-dyed colours
...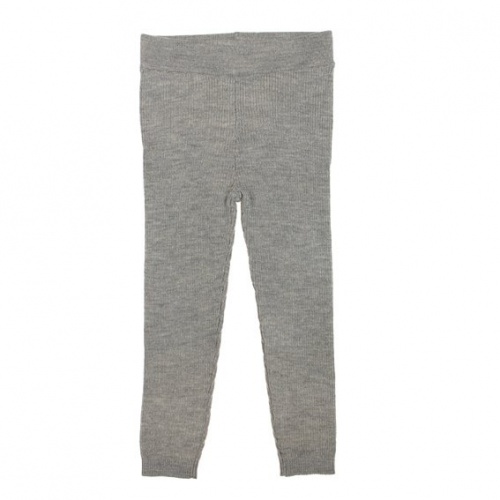 2 to 12yrs
£36.00
Very soft and silky Merino wool children's leggings in a fine rib knit. The fine Merino wool is gentle next to the skin and warm and breathable too. They're FUBulous!
100% fine Merino wool leggings
wide, covered waistband for comfort
flexible rib knit for a close fit
all tested according to OEKO-TEX® standard
...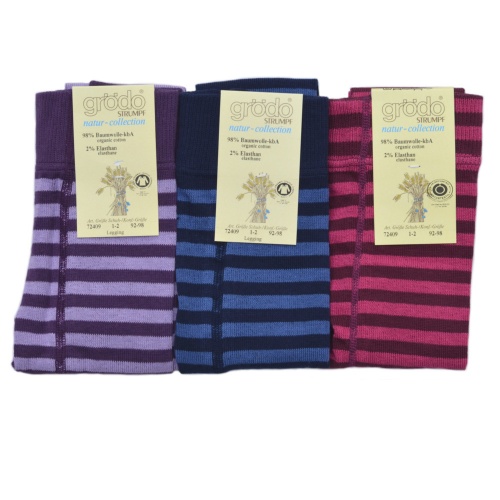 2 to 9yrs
£10.50
Great under skirts and dresses, these organic cotton leggings are perfect all year round! With the feel of medium-weight tights with a cuff around the ankle, these are Cambridge Baby favourites.
long-fibre organic cotton and eco-friendly dyes for comfort and health
98% GOTS-certified organic cotton, 2% elastane
they fit well and look great - gorgeous colours!
...
1 to 8yrs
£14.99

In a 50% wool, 50% organic cotton mix, these practical leggings are much warmer than cotton but still very soft for sensitive skins. These fit more closely than our other leggings, more like footless tights, making them ideal for wearing under everyday trousers and with dresses.
fine rib knit for comfort
50% soft fine wool, 50% gentle organic cotton
machine washable on a wool cycle
...
2 to 6yrs
£29.00
Perfectly versatile, naturally flexible and breathable children's leggings to wear as an underlayer, on their own or even to fall asleep in after an active day out. Comfortable and practical whatever happens.
100% superfine NZ Merino wool (235gsm)
can be worn as unisex base-layer or as leggings
supersoft wool and flat seams
...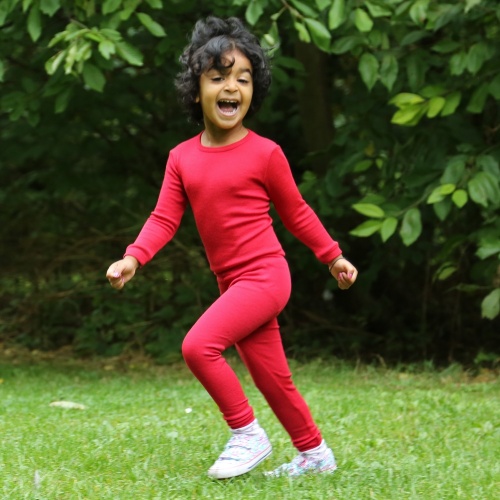 2 to 16yrs
£15.99

Best seller!
Ideal base-layer for all outdoor play, skiing and cycling, these wool/silk blend leggings are warm, breathable and flexible. When bodies are working hard, the whole wool fibre wicks away sweat and works with the body to maintain its optimal temperature. And when the hard work is over, the body stays warm.
naturally soft and anti-bacterial, it will not chafe the skin
70% organic Merino wool, 30% mulberry silk - ideal for more sensitive skins
versatile - use on its own or as a base-layer
...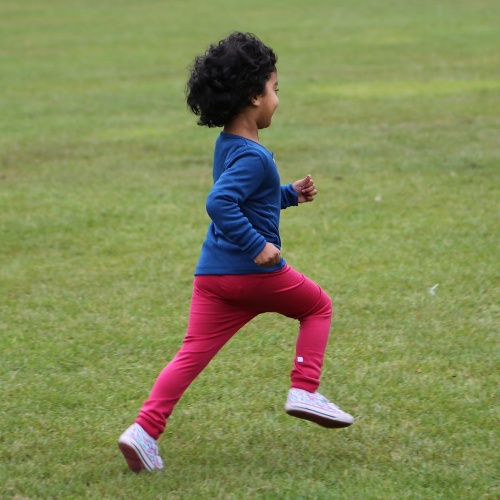 6m to 10yrs
With a simple design, a beautiful fabric, stunning colours and a funky leg pocket, boys and girls with love these practical leggings! On their own or under things.
100% superfine NZ Merino wool
lovely bright colours with a beautiful silky sheen
with an elasticated waist, ankle cuffs and a funky leg pocket
machine-washable on a 40°C wool cycle
...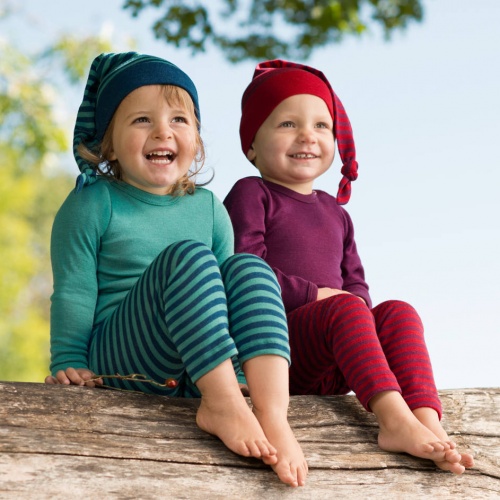 3m to 6yrs
£12.99
Easy to wear, fine-knit stripy leggings babies and younger children. Warm, organic Merino wool and gentle silk - naturally good for your child's skin and body. Perfect to wear under trousers and skirts or on their own.
70% GOTS certified organic Merino wool, 70% mulberry silk
these leggings are practical all year round
with an opening at the waistband to adjust the elastic
...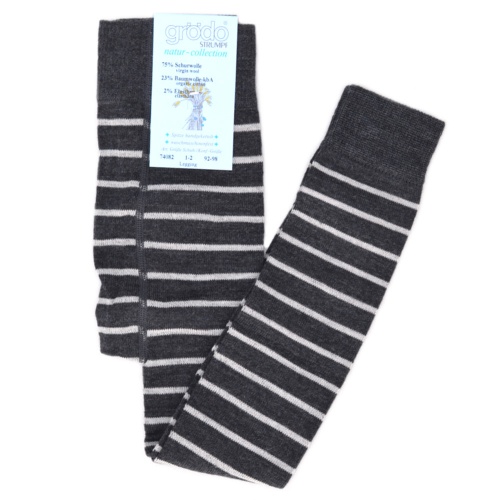 2 to 9yrs
£13.99
Fine striped leggings in wool cotton and elastane. Gentle, breathable and non-itchy. Brilliant on their own or under skirts or trousers.
gusseted bottom
75% wool, 23% organic cotton and 2% elastane
ankle cuffs for a good fit
...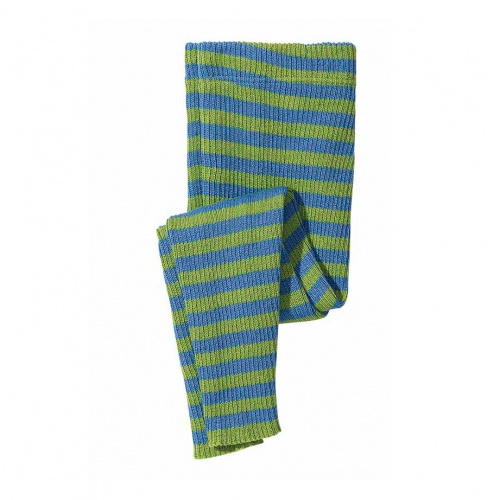 4 to 10yrs
£21.99
Sadly now end-of-line!
Add some fun to a child's outfit with these stripy leggings.
100% organic Merino wool
ribbed for stretch and fit
great on their own or under a skirt
...
Displaying 1 to 13 (of 13 products)