Newsletter
Keep yourself up to date with news and discounts on natural clothing!

it is blinking marvellous to buy items that are irresistible and ethical at the same time. ..

IRIS, NEWPORT ON TAY
tights
We have here for you to buy online a careful selection of tights and leggings...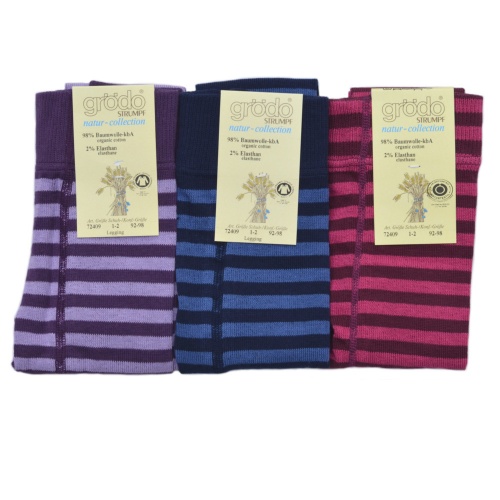 2 to 9yrs
£10.50
Great under skirts and dresses, these organic cotton leggings are perfect all year round! With the feel of medium-weight tights with a cuff around the ankle, these are Cambridge Baby favourites.
long-fibre organic cotton and eco-friendly dyes for comfort and health
98% GOTS-certified organic cotton, 2% elastane
they fit well and look great - gorgeous colours!
...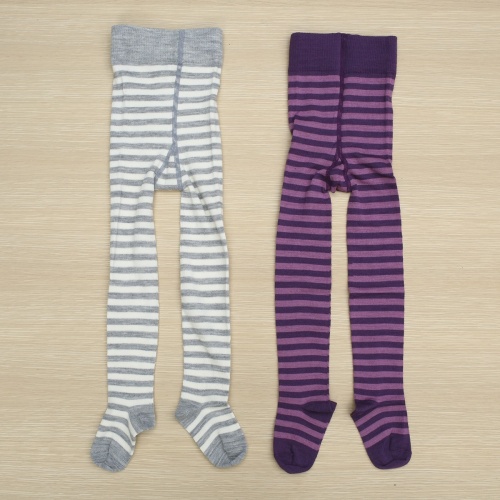 2 to 9yrs
£14.99
Beautifully stripy tights in natural, organic wool and cotton, with a touch of elastane for comfort. And soft too!
a wide waistband ensures they stay up
80% organic wool, 18% organic cotton and 2% elastane
comfy warm and cosy
...
2 to 9yrs
£9.99
Practical and colourful, these everyday tights are a delight. The material is soft to wear and the wide stripes and bright colours make for a popular garment!
a long, flexible waistband to keep tummies warm
98% organic cotton and 2% elastane
flat seams for comfort
...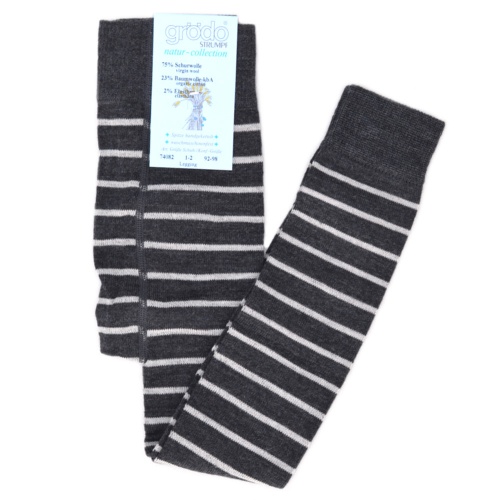 2 to 9yrs
£13.99
Fine striped leggings in wool cotton and elastane. Gentle, breathable and non-itchy. Brilliant on their own or under skirts or trousers.
gusseted bottom
75% wool, 23% organic cotton and 2% elastane
ankle cuffs for a good fit
...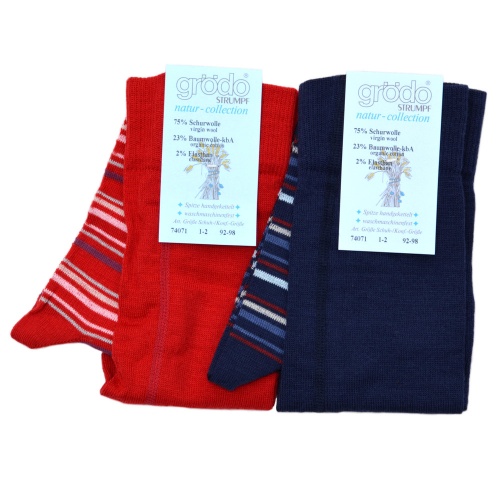 2 to 9yrs
£12.50
Stripy wool rich tights that your daughter will love to wear. Excellent quality with lots of style!
warm yet breathable tights that fit well
75% wool, 23% organic cotton and 2% elastane
generous waistband and handstitched toes for top to bottom comfort!
...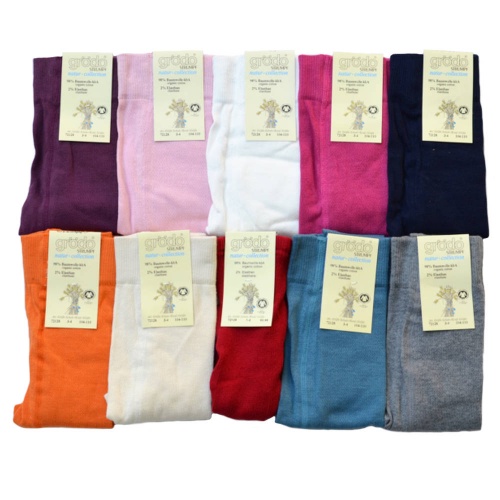 12m to 12yrs
£12.99
In a finer knit than our other children's tights, these are ideal organic cotton tights for school and for "best".
98% GOTS certified organic cotton and 2% elastane
soft, breathable, practical and good-looking
durable, quality tights
...
2 to 9yrs
£14.99
Exactly what it says - rare, 100% pure organic wool footless tights.
the natural stretch of wool with no lycra / elastane
warm, breathable and comfortable
100% pure organic wool
A great under-layer and brilliant with skirts and shorts! ...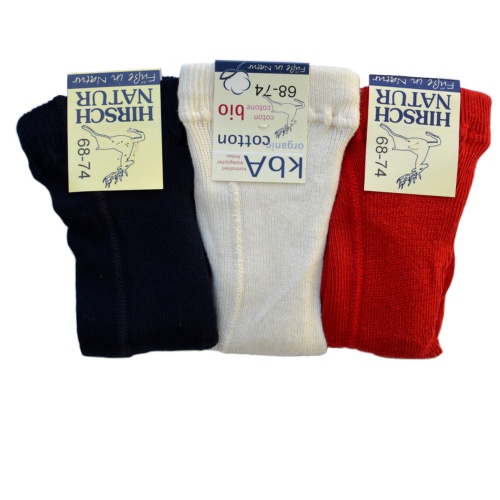 0 to 9yrs
£22.20
Two pairs of straight-forward, soft organic cotton tights for your little one. They are safe enough for babies to suck on! (toes are delicious!)
100% organic cotton: healthy - allergen and pesticide free
generous fit for cloth nappies
hemmed opening to adjust/change the elastic at the waist if need be
...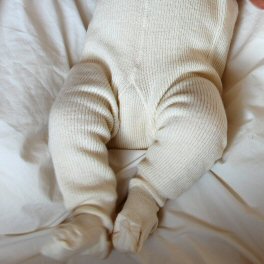 0 to 3yrs
£13.99

Leggings with feet in super-soft 70% Merino wool, 30% organic cotton. Very practical for the sling, pram or for toddling. Stretchy top to keep lower back and tummy warm. The trouser part is in a medium knit, while the ankle and foot are in a fine knit so that they fit into booties or shoes.
warm, soft, breathable & long-lasting
70% Merino wool, 30% organic cotton
chemical-free cotton for healthy skin & body
cloth nappies friendly
...
1 to 8yrs
£14.99

In a 50% wool, 50% organic cotton mix, these practical leggings are much warmer than cotton but still very soft for sensitive skins. These fit more closely than our other leggings, more like footless tights, making them ideal for wearing under everyday trousers and with dresses.
fine rib knit for comfort
50% soft fine wool, 50% gentle organic cotton
machine washable on a wool cycle
...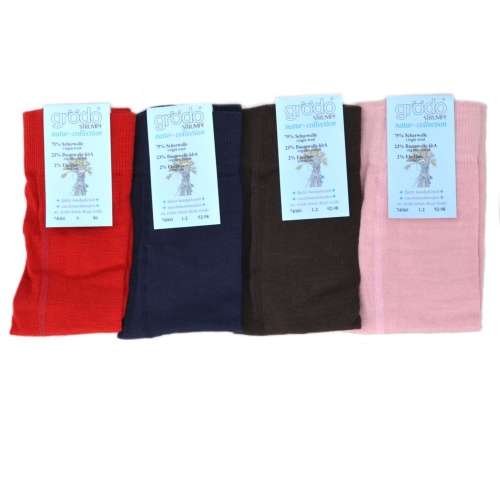 12m to 7yrs
£11.99
These fine-knit soft wool tights will keep your child's legs lovely and warm, and the hand finished seams will keep little toes happy too!
75% wool for warmth and breathability
23% organic cotton for durability and smoothness
2% elastane for stretch and keeping their shape
...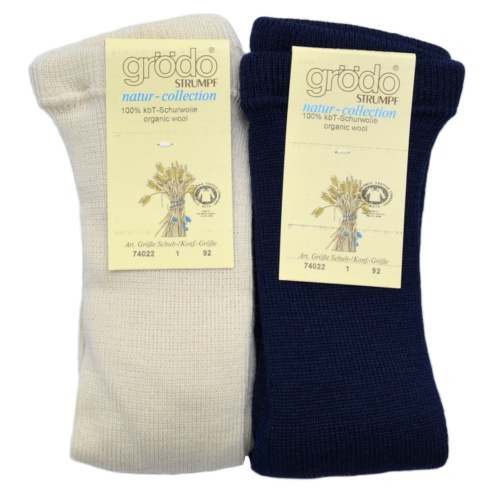 1 to 10yrs
£14.99
Beautiful finely ribbed tights in 100% soft, breathable organic wool. Well made for toddlers' and children's comfort.
adjustable elastic
100% organic wool
simply soft wool and gentle seams
...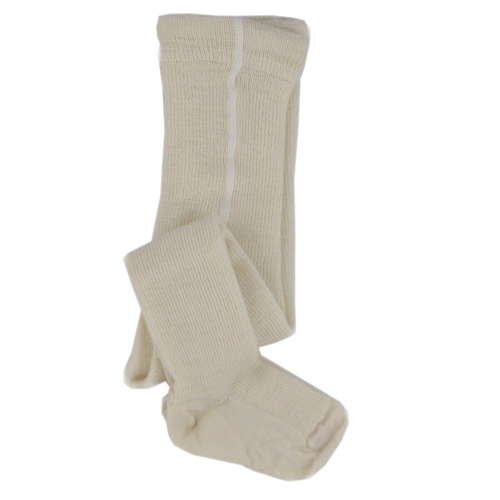 0 to 7yrs
£14.99
Soft children's tights in 100% organic wool. Practical, breathable, comfortable. Perfect!
100% organic wool
elastic waistband
ribbed for stretch and fit
...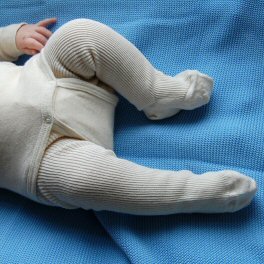 0 to 9yrs
£11.99
Gorgeous, super-soft pure wool tights available in natural and navy. Warm and breathable to keep little legs warm and skin healthy, we've chosen these because of their soft knit and flexibility.
100% super soft, non-itchy wool
naturally stretchy
easy to put on and take off
...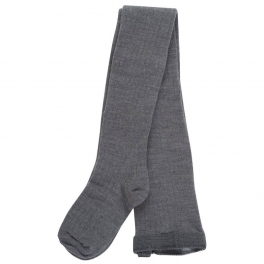 5 to 8yrs
£19.00
Ribbed merino wool school tights in grey. Perfect for school on those cold days with the insulating properties of merino wool to keep your child warm.
80% organic merino wool, 17% polyester and 3% elastane
stretchy for snug fit
lace detailing on waistband
...
Displaying 1 to 15 (of 15 products)