coats & jackets
We have selected a snuggly range of coats and jackets, Snugglesuits and body warmers...
---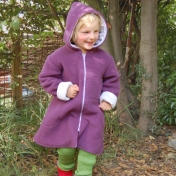 £110.00
£99.00

Save yourself £11.00
Fully lined, soft, flexible and breathable, this is a comfortable and practical wool coat for active girls. Generous lined hood for warmth.
100% organic wool fleece
100% organic jersey cotton lining
Zip practicality for warmth and function
Made for us!
...
---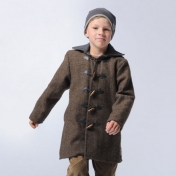 £160.00
£144.00

Save yourself £16.00
A warm and sturdy duffle coat in pure wool herringbone tweed, designed by Charle to last. A rare piece - a fully lined pure wool dufflecoat of excellent design.
100% organic wool with 100% organic jersey cotton lining
all natural styling, including wooden toggles
Generous hood and lined pockets.
Delightful, and available in the UK exclusively from us - snap yours up now. ...
---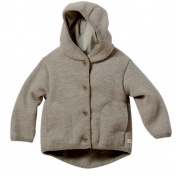 £46.00
This new improved design of coat keeps all the fantastic qualities of the old coat with even better features. A new extended back section prevents the coat riding up and keeps the child's back nice and warm when crawling or bending. The additional seam in the hood provides more room for your child's head so it stays up more comfortably. Made from "boiled wool" which gives a light duffle-like texture, these Disana wool coats are
very breathable
too, perfect for active outdoor life.
Sturdy, but light and breathable
Water resistant (like a duffle coat)
Breathable and healthy for the body
100% organic Merino wool
...
---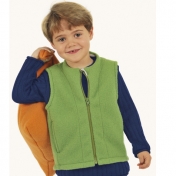 £42.00
£33.60

Save yourself £8.40
A wonderful, soft but sturdy gilet in a new contemporary design for this season with extra side panels to fit your child's body shape with even greater comfort. The "boiled wool" Merino fleece means it's rugged enough for outdoor play, and naturally warm, and is still light to wear. Try it and love it!
A water-resistant, naturally breathable bodywarmer
Quick to put on for an extra layer of body warmth
Generously sized - even over lots of layers
Styled to last - the kids won't stop wearing it!
Versatile, sturdy and practical all year round! ...
---
£69.00
Made to Engel's high standards, this organic fleeced Merino zip jacket is very warm and very soft. The fleeced organic Merino wool is thick and deliciously soft, the high collar zips up to keep your child's neck warm, the jacket is easy for your child to wear and also good looking.
Practical, natural warmth in a zip fleece.
Good arm length, pockets, good high collar.
Very breathable, thick warm fleeced organic wool.
...
---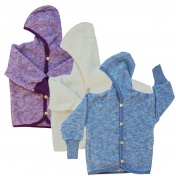 £34.00
Soft, warm, fleeced Merino wool is the gentlest fabric for your baby or toddler - and also durable enough for outdoor wear, flexible for the wriggliest child and water and dirt resistant too. Great for squishing into slings and comfortable for the pram, and good for exploring hills and gardens too.
Well made and cosy, with little wooden buttons.
Unlike cotton, a wool fleece coat creates a light, comfortable insulating layer - even when damp!
Unlike polyester, this wool coat will allow skin to breathe, absorbing moisture from the skin and keeping your baby comfortable.
...
---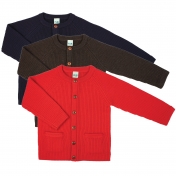 £59.00
£47.20

Save yourself £11.80
We feel FUB have surpassed themselves to make the perfect relaxed wool cardigan in 100% pure Merino wool. With pockets, lovely buttons and the gentle comfort of soft wool, we know children will be warm, comfortable and good-looking everywhere they go.
Very soft, pure Merino wool.
Warm enough as a light jacket too.
Danish styling for simple good looks and lasting, hand-me-down quality.
...