Newsletter
Keep yourself up to date with news and discounts on natural clothing!

..

Silje, Carrington Australia
Omibia
Omibia is a new British brand making beautiful, luxurious and yet practical baby and children's wear. The aim of its founder and designer Mercedes Bermudez is to make as little an impact on the environment as possible whilst making clothes of the very highest quality.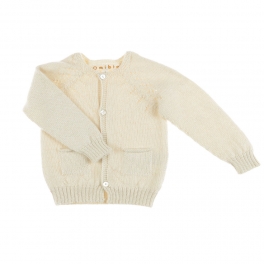 0 to 24m
£54.00
A beautifully soft 100% baby alpaca wool cardigan from Omibia. Handmade in Europe, this naturally coloured cardigan comes with front pockets along with subtle detailing around the neck and down the centre complimented by mother of pearl buttons. The ribbed knit stretchy cuffs and hem will fit snugly around your baby to keep out those chilly winter winds.
100% Baby Alpaca, hand wash cold
Hand-made in Europe
Warm with a dense close knit, yet still light for perfect freedom of movement.
...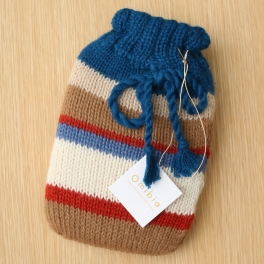 small to large
What can motivate you to buy such luxurious comfort? Well, it's not a luxury. Made from 80% sugar cane, recycling natural organic resources, it avoids the carcinogenic output from rubber processing, and it is completely PVC-free - so when your family is cuddling up to it, you know it's safe. It will also last a life-time, and comes with a heavenly soft hand-knitted alpaca cover. Happiness every nighttime.
Cover in 100% Baby Alpaca made in the UK.
A stiffer bottle material, making it safer to pour, with a high quality lasting screw top.
Made from renewable resources, long-lasting, odour-free and PVC- and plasticizer- free.
Comes nestled in an eco card box.
Made to British Standard BS 1970:2012.
...
Displaying 1 to 2 (of 2 products)