Newsletter
Keep yourself up to date with news and discounts on natural clothing!

Great customer service! I enquired and received a reply the same day. The twins discount was very kind, thank you. I ordered and my package arrived the next day. Excellent product. One very happy Mummy. ..
Emma, CHELTENHAM
Home

returns & exchanges
returns & exchanges
Returns Policy
At Cambridge Baby we hope that you and your family will be delighted with everything that you buy from us; however, we understand that at times something might not be quite right and that is why we have a generous returns policy.
If the item is the wrong size, wrong colour or you simply don't like it, then return the goods in an un-worn, un-washed and saleable condition with their labels and packaging for a refund, exchange or account credit (your choice!). All exchanges are sent out to you for free.
You can examine your clothing as you would in shop, so that you can be confident that it is right for you. This means, for example, that you can try something on as you could in a shop, but that you cannot wear it for a day, nor wash it, nor cut out labels, and expect a refund*. Sometimes it is hard to put things back in the packet so we ask that you fold things carefully and return them as you would like to receive them.
If you are in the UK, return postage is now FREE when you download and use our returns label. We do not refund returns postage for customers outside the UK, and we do not refund returns postage if our free UK returns label is not used - our address is below. Click here for our free returns label and follow the instructions from Royal Mail.
Underwear may not be returned if it has been tried on. Instead, it must be returned as received, that is still within/attached to its original packaging.
We understand that these things can take time which is why we are happy to accept any returns for a refund, exchange or credit within
a generous three months of dispatch
. However, we can not guarantee that the same item will still be available in another size or colour, or that a specific item will still be available, so if you want to make sure of getting what you want we suggest placing a separate online order. *(Because they need to be resaleable, this means we also won't refund if the items smell of detergent, or smoke, or perfume, or if they have stains, or pet hairs, or food on, or if they are ragged or exceedingly crumpled and creased.)
We try and process returns as soon as they arrive but returns may take up to two weeks to be processed during our busiest times. If you don't want to wait that long to receive exchange items, we suggest that you return the unwanted items for a refund and place a new order.
Returns Procedure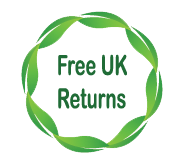 If you are returning an item from within the UK, you may download a printable
free returns postage label
from Royal Mail
-
. If you are returning an item from outside the UK, please send your returns to:
Cambridge Baby
48 Hemingford Road
Cambridge
CB1 3BZ
Please also include the following.

Either
your original invoice with the returns section filled in
or
a note with your name, a daytime contact telephone number, and - if applicable - what you would like in exchange and where you would like it sent.
We recommend sending your returns via Royal Mail and requesting a proof of postage which is free and allows you to claim compensation should your parcel be lost (which is rare). You are responsible for the postage costs of returning the goods to us; however, we will send out any exchanges for free.
Missing, Faulty or Incorrect Items
If something is missing from your order, we're very sorry - please let us know as soon as possible and we will send out the item or offer you a refund or credit.
If something that you have bought from us is faulty or incorrect, then we are very sorry and providing that, for faulty items, you have followed our washing instructions, we will be happy to offer you a refund, replacement or credit.


Please note that even high quality wool has a tendency to bobble, particularly if it is soft and untreated, and therefore we cannot accept returns simply because of bobbling.

If you are in the UK, please use our free returns postage to return the item to us.
If you are outside the UK, please return the item to us, with the postage cost clearly marked and we will refund it.
Please return the item to us following the procedure for returns above, with a note explaining what is wrong with the item and whether you would like a refund, account credit or a replacement.
" Thank you also for your great no quibble exchange policy, which allowed us to swap sizes and products without worrying about how I was finally going to get to look online and package up the parcel and make it to the post office with a baby in time. I'm recommending you to all my friends."
Anna and Baby Idris