Newsletter
Keep yourself up to date with news and discounts on natural clothing!

..

Andrea, WALLASEY
shoes & slippers
Soft, breathable, natural booties and slippers for busy little feet in natural organic wool and baby-safe leather...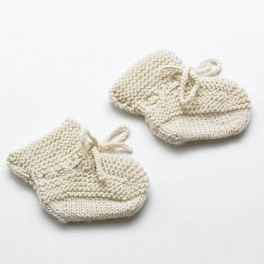 £14.00
Gorgeous tie-on baby booties in Super-soft Merino wool.
100% extra fine Merino wool
ties to keep them on
hand-knitted in Uruguay
World Fair Trade Organisation certified
...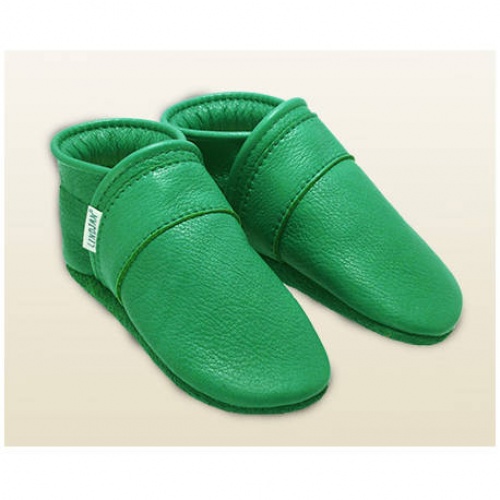 EU 17 to 24
£27.00
Un-dyed leather, safe enough to chew! Beautifully soft baby shoes in naturally-tanned leather. Expertly made with folded-over finish rather than raw. Gentle covered elastic for a good fit, and tested to be toddler-proof.
100% vegetable-tanned leather, safe and free from heavy metal, chrome and other toxins.
Choose from pure, un-dyed leather - safe enough to chew! or
Eco-safe, environmentally friendly dyed leather. Small risk of colours running if wet.
...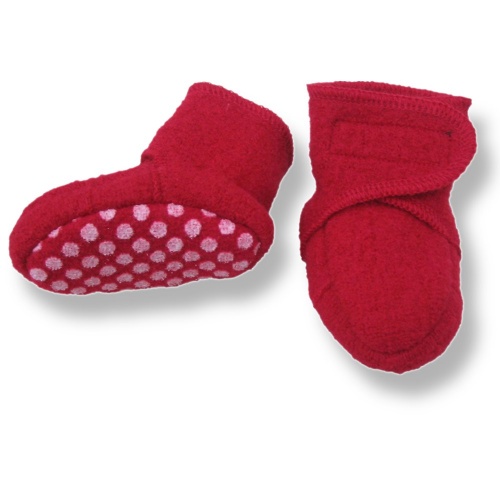 £16.00

Now end-of-line in pink!
Sturdy boiled wool fleece booties with grippy soles and very solid Velcro fastenings - they really stay on! Great for young babies and crawlers. For toddlers, great in the home as they grip on wooden floors and tiles! However Disana advise that they don't offer foot support and will wear through eventually when used on hard floors.
warm, breathable booties with a grippy sole
100% boiled Merino wool
velcro fastening
...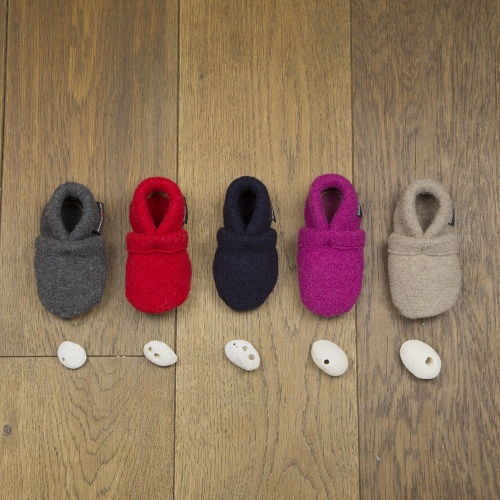 EU 16 to 22
£19.50

These first baby shoes are made from all natural materials and will protect your baby's feet whilst keeping them warm and comfortable. They fit gently and snuggly in the same way as leather baby shoes and have the added benefits of the insulation, breathability, water resistance and softness of boiled wool.
non-slip soft leather sole
100% boiled wool fabric is flexible, warm and soft
these shoes will stay on - and keep socks on too
...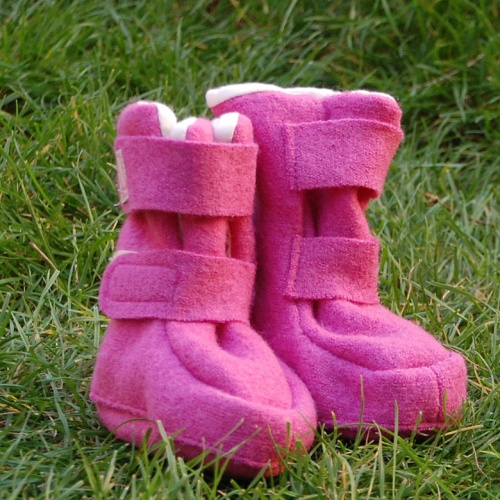 0 to 24m
£22.99
These boiled wool booties are fully lined for extra warmth - offering extra softness for the most sensitive skins. Ideal for babywearing and cold winter days. While they don't offer foot support and will wear through eventually when used on hard floors, they remain firm favourites amongst our customers.
breathable warmth and protection for feet, ankles & calves
boiled Merino wool outer and cotton lining - both 100% GOTS-certified organic!
fully adjustable velcro straps for a great fit
...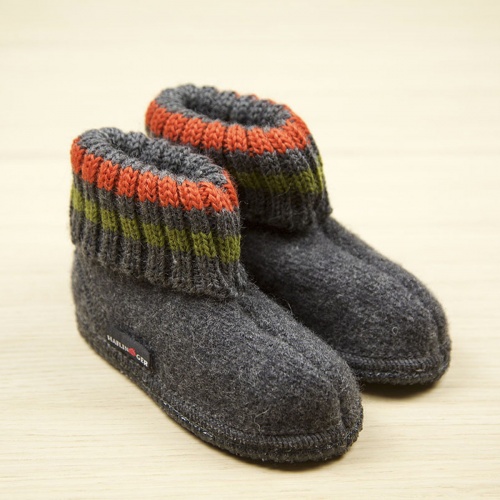 EU 22 to 36
£23.50
These amazing boiled wool children's slippers by Haflinger are made from natural boiled wool throughout, with a non-slip sole where the wool is infused with natural latex. Boiled wool is sturdy yet flexible where necessary, allowing the foot to expand and contract in comfort, and is warm, light and breathable too.
Wool is naturally anti-bacterial, dirt-resistant and breathable, which makes these Haflinger wool slippers the best indoor footwear. Feet stay healthy, warm and comfortable all day long.
cuffs at the top provide a gentle but secure fit
breathable boiled wool keeps fit warm and healthy
natural latex sole provides grip and ensures they last
...
EU 18 to 2
£5.99

Our best selling non-slip socks are now in a medium-thick knit so can also be worn inside wellies and boots. Children love these socks - and so do adults with very small feet!
100% soft and breathable Merino wool socks
phthalate-free rubber grips
perfect for slipper Houdinis!
...
EU 27 to 45
£4.99
Wool innersoles give a better fit to your shoes through cushioning and supporting the sole of your foot and provide extra warmth too. Another benefit is that the pure, felted wool is very breathable and healthy for your skin. Great for wellies or our beautiful undyed slippers, of course. They're a hidden treat for your feet!
100% pure non-bleached, non-coloured pure wool felt
use for extra comfort and warmth and for improved fit
please size up and trim the sole down to your perfect shape
...
Displaying 1 to 8 (of 8 products)