shoes & slippers
Soft, breathable, natural booties and slippers for busy little feet in natural organic wool and baby-safe leather...
---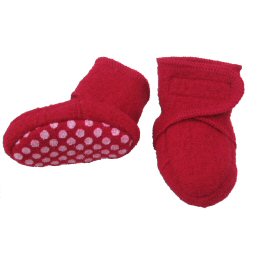 £16.99

Sturdy boiled wool fleece booties with grippy soles and very solid Velcro fastenings that make sure they really stay on. Great for young babies and crawlers, and also good for toddlers for in the home as they grip on wooden floors and tiles! Very popular with customers coming back to size up.
"These booties really DO stay on. My 10-month-old once wore them for 36 hours in a row!.... (don't report us...)" Helen East, owner.

Sizing
Size 1: ~3-9m, average 10cm long sole (outside),
Size 2: ~12-24m, average 14cm long sole (outside)(may be labelled as 8-12m by Disana.) ...
---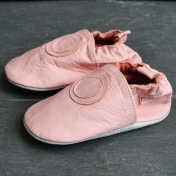 £16.99
Soft, delightful leather baby shoes, carefully designed to protect growing feet.
Made in 100% baby-safe eco-leather
100% Baby-safe dyes - they're pretty much edible!
And a suede non-slip sole for good grip.
The most lovely leather baby's first shoes!
...
---
£22.99
Already firm favourites, these organic boiled wool booties are now available fully lined - in organic cotton. Ideal for babywearing and cold winter days.
Lined for extra warmth, and offering extra softness for the most sensitive skins
Breathable warmth and protection for feet,ankles & calves.
Fully adjustable velcro straps provides versatility.
Both the wool and cotton are organic for chemical-free comfort.
...
---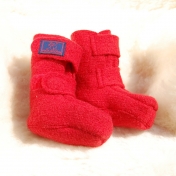 £14.99
Made from Disana's lovely organic boiled Merino wool, these simple booties keep your baby's feet and lower calves warm. Their longer length prevents "gaps" between trousers and booties, making these also ideal for slings. The two velcro straps can fasten at any point on the wool boot so they're fully adjustable and work over trousers or next to the skin.
Breathable warmth and protection for feet,ankles & calves.
Fully adjustment velcro straps provides versatility.
...
---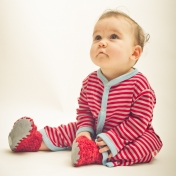 £21.99
Lovingly handmade from naturally dyed Welsh Merino wool with a cosy sheepskin innersole and recycled suede sole, these slippers (or booties) will keep your child's feet deliciously warm and comfortable.
beautiful colours from plant based dye
recycled suede sole from upholsterers and book-binders offcuts
soft and luxurious Welsh sheepskin
...
---
£26.99
£25.64

Save yourself £1.35
The perfect first shoes for your baby in the softest, most supple leather. These soft entirely natural slippers will keep your baby's feet warm and their socks on! And once they start crawling and standing up, these shoes will protect your baby's feet - while being as soft and flexible as socks!
Made from pure, safe, undyed vegetable-tanned leather
Baby-proof - stable for sweat and moisture and even safe to chew!
All edges hemmed for added comfort for your baby.
These undyed, vegetable-tanned baby shoes are the most natural you can find and are exceptionally well-made and finished. We were really excited to discover them recently in Germany and know that you and your baby will fall in love with them. ...
---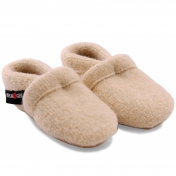 £19.50
Lovely new colours!
They're made from all natural materials and will protect your baby's feet whilst keeping them warm and comfortable. They fit gently and snuggly in the same way as leather baby shoes and have the added benefits of the insulation, breathability, water resistance and softness of boiled wool.
Non-slip soft leather sole with cosy, soft boiled wool innersole.
The wool fabric is flexible, warm and soft.
These shoes will stay on - and keep socks on too.
Healthy, natural first baby shoes for your little one. ...
---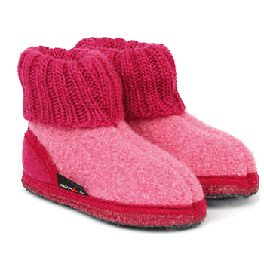 £24.50
The amazing boiled wool children's slippers by Haflinger are made from natural boiled wool throughout, with a non-slip sole where the wool is infused with natural latex. Boiled wool is sturdy yet flexible where necessary, allowing the foot to expand and contract in comfort, and is warm, light and breathable too.
As wool is naturally anti-bacterial and dirt-resistant, this, combined with its breathability, makes these Haflinger wool slippers the best indoor footwear, keeping feet healthy, warm and comfortable all day long.
Cuffs at the top provide a gentle but secure fit.
Breathable boiled wool keeps fit warm and healthy.
Natural latex sole provides grip and ensures they last.
Limited stock - buy now for Autumn, Winter and Spring. ...
---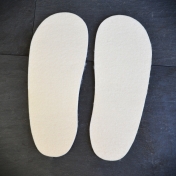 £4.99
Wool innersoles give a better fit to your shoes through cushioning and supporting the sole of your foot, and provide extra warmth too. Another benefit is that, in pure felted wool, they're very breathable and healthy for your skin.
100% pure non-bleached, non-coloured pure wool felt
For properly fitting shoes
For extra comfort and warmth.
Great for wellies, they're a hidden treat for your feet! ...