trousers & shorts
Here you'll find the best trousers and shorts for babies and children - including leggings, pull-ups, cargo pants, dungarees and so much more in practical, safe, stylish and eco-friendly natural fabrics including organic cotton, organic Merino wool and wool/silk blends...
long-johns
---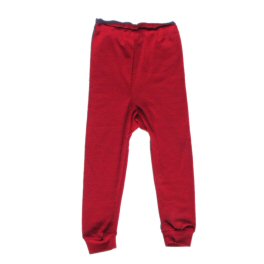 £19.99
In fine-knit Merino wool, these super long-johns (or thermal under pants) will provide the valuable extra layer to keep your child snug and comfortable whatever the weather.
Warm, gentle and breathable
Fine knit to stay close to the skin
Co-ordinate with the stripy vests
Eco-friendly, skin-friendly and socially responsible!
Versatile - thermals, leggings or even PJs! ...
---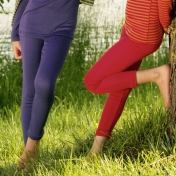 £22.00
New in!
Ideal base-layer for skiing and outdoor play, these wool/silk blend leggings are warm, breathable and flexible. When bodies are working hard, the whole wool fibre wicks away sweat and works with the body to maintain its optimal temperature. And when the hard work is over, the body stays warm.
70% organic Merino wool, 30% mulberry silk - ideal for more sensitive skins.
Naturally soft and anti-bacterial, it will not chafe the skin.
Wear with our wool/silk polo neck or vest top for all-over healthy, breathable warmth.
...
---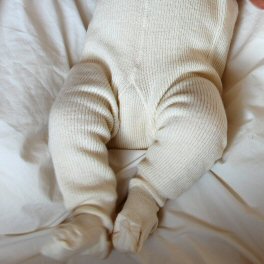 £13.99
Now also available in navy!
Leggings with feet in super-soft 70% Merino wool, 30% organic cotton. Very practical for going out and about in the sling, pram or for toddling.
The trouser part is in a medium knit, while the ankle and foot are in a fine knit so that they fit into booties or shoes.
70% Merino wool, 30% organic cotton
Chemical-free cotton for healthy skin & body
Warm, soft, breathable & long-lasting
Stretchy top to keep lower back and tummy warm
Cloth nappies friendly
Soft, safe and very practical! ...