Newsletter
Keep yourself up to date with news and discounts on natural clothing!

..

Monika R, London
dresses and skirts
Our dresses and skirts are made especially to combine comfort, softness and ease of movement with great styling for active girls...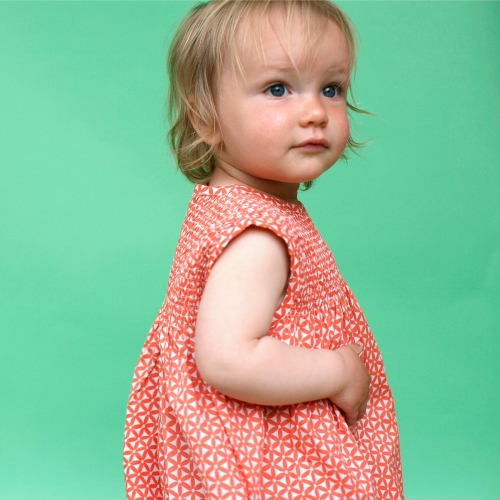 1 to 8yrs
£30.00
A truly lovely 'A' line smock dress in block print in organic cotton with smocking on the front & back of the yoke, fully lined in a light weight organic cotton in matching solid colour & a hidden zip at the back. We love the quality of the make & fabric of Pigeon Organics, they are comfortable, soft & will only look better as they are washed. Two lovely summery block print colours to choose from.
100% light weight organic cotton
smocking detail on the front & back
hidden zip
two block print colours
...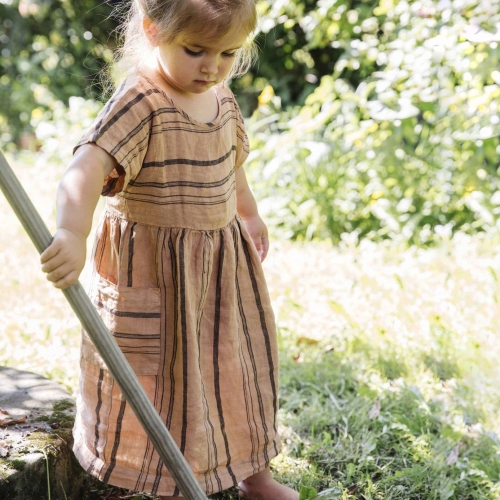 6m to 10yrs

We couldn't help but offer our customers the Matona range, we just love the fabric quality, beautiful designs and feel that Matona truly fulfills our brief of offering sustainable natural healthy fabrics in comfortable and practical designs that can be handed down through your family. A beautifully simple dress for toddlers and children too.
organic GOTS certified linen or cotton - gentle on sensitive skins
simple tie at the nape of the neck
two big pockets
grown and made in the EU
...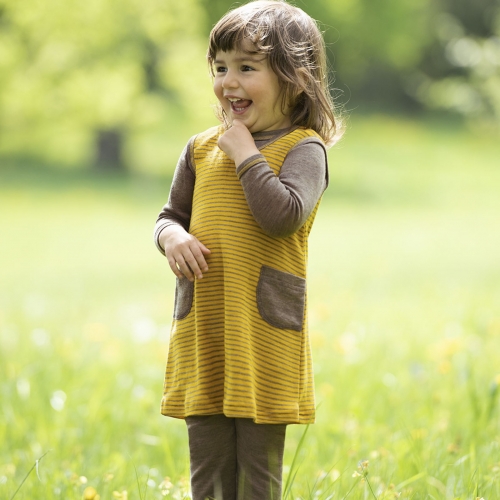 3m to 4yrs
£21.00
Comfort for indoors and out, great with tights or leggings. Perfectly flexible and un-take-off-able!
soft, cosy, warm and breathable
100% organic wool and silk blend
contrasting pockets for treasures
...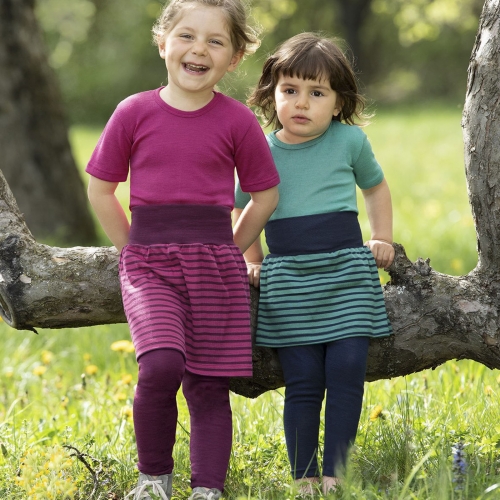 2 to 10yrs
£17.50

Great for all-seasons, this stripy skirt by Engel has a stretchy waistband which is gentle on tummies. But - more importantly - it is perfect for twirling!
70% organic Merino wool and 30% silk
comfy and stretchy turn-down waistband
coordinates with our Engel leggings and tops
...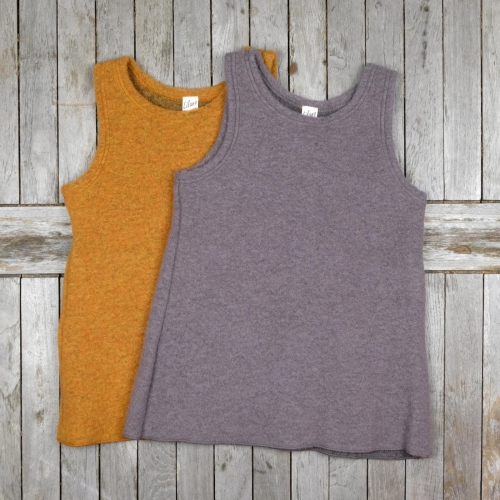 2 to 7yrs
£19.25
A lovely fleece dress, perfect for Autumn and Winter. Whether layered with a pair of our tights or worn alone, this dress is a great addition to any little one's wardrobe.
80% organic merino wool, 20% cotton
comfortable, and soft fleece material
...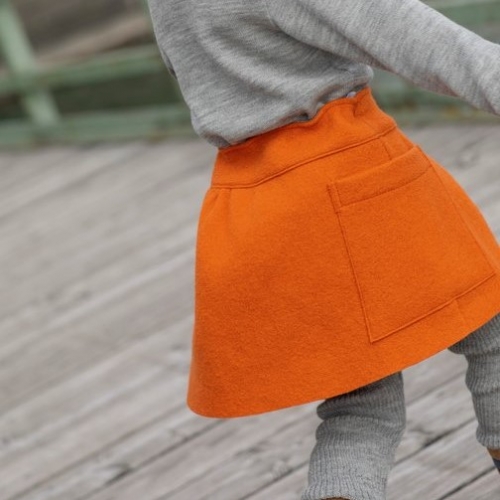 12m to 10yrs
£44.20
A soft boiled wool skirt, with gentle pleats. In 100% organic merino wool, this skirt is kind to skin and the environment.
three buttons at the hip
large single pocket on the side
...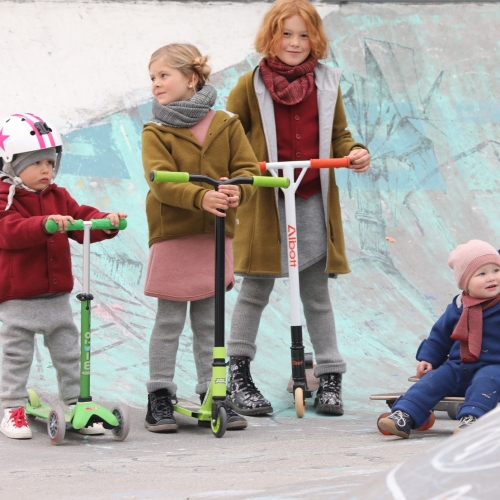 2 to 10yrs
£34.00

From Disana's children's collection, a cute boiled wool skirt. With its clever cut, it doesn't ride up while playing and running. The high knitted and comfy waistband makes sure that everything stays in place. The knitted waistband is in Disana's two-colour melange look for better matching across the range.
100% organic merino wool
handy, functional pockets
...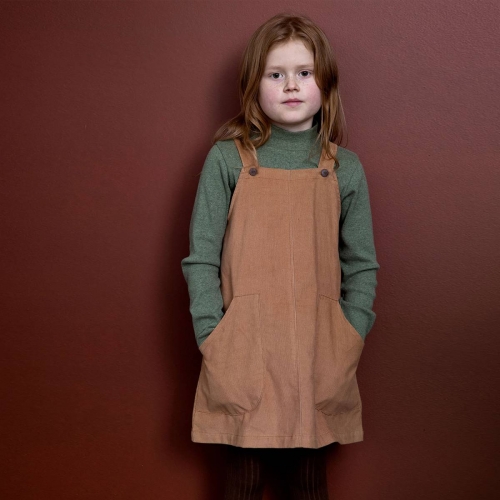 2 to 7yrs
Classic Scandinavian design and beautiful quality in the sweet spencer dress. Made in soft organic corduroy, this updated design has deep front pockets on both sides and is closed with coconut buttons on the straps.
100% GOTS certified organic cotton corduroy
...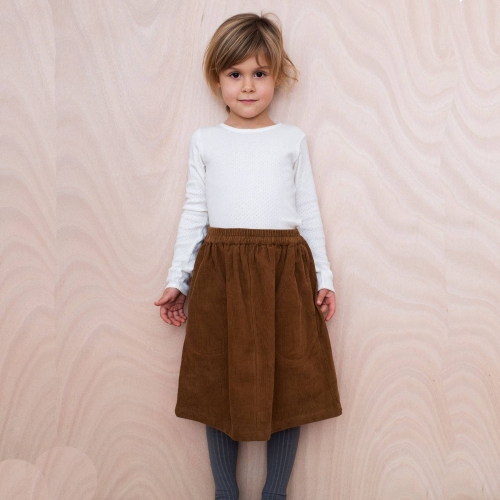 2 to 6yrs
A practical and comfortable skirt with two side pockets. The skirt is made from organic cotton corduroy fabric and comes in a lovely warm walnut shade with a wide but gently elasticated waistband. This versatile skirt is perfect for everyday wear with a hint of luxury.
100% super-soft organic cotton
lovely simple Danish design & quality
ethically made in India
...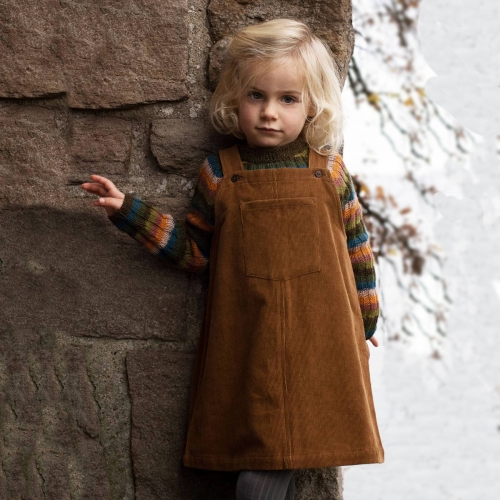 3 to 7yrs

Classic Scandinavian design and beautiful quality in this Organic Cotton Walnut Corduroy Spencer Dress by Serendipity. Sleeveless, knee-length design with button-up shoulder straps and large central front pocket. This dress can be worn in summer, or layered for those colder months. We just love their luxurious feel, and versatility.
100% GOTS certified organic cotton corduroy
...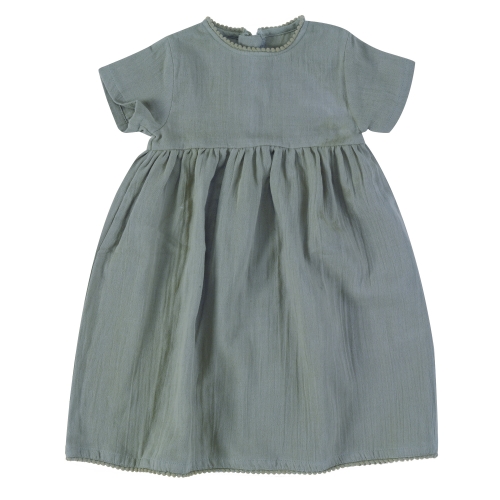 3m to 8yrs
A lovely muslin dress great for those warmer months when breathability is a must; this dress will stop your youngster from overheating and is organic, so kind to the skin.
100% organic cotton
gorgeous colours
...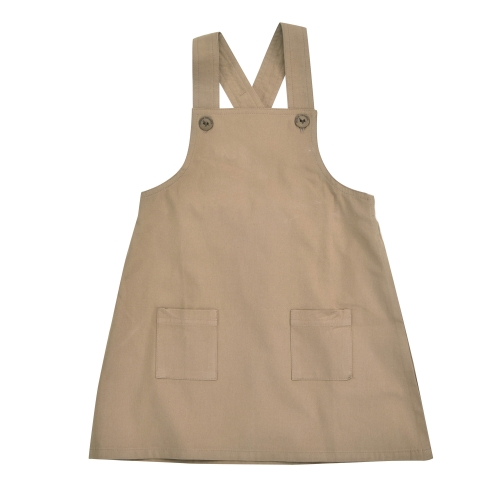 1 to 8yrs
A very sweet, well-made organic cotton apron dress, perfect for summer or those colder days layered with our tights or a long-sleeved vest. It's soft and kind to the skin, with no harsh dyes or chemicals in sight.
...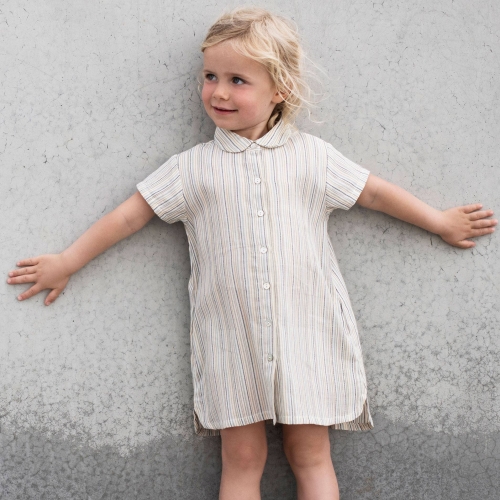 2 to 11yrs
A beautiful and comfortable short-sleeved shirt dress with two large pockets on the sides. The dress is made from a light woven organic cotton fabric and comes in lovely multi-stripes and golden checks with natural shell buttons. We love it!
100% super-soft organic cotton
lovely simple Danish design & quality
ethically made in India
...
Displaying 1 to 13 (of 13 products)