Well, it seems that winter is now in full swing even though it's actually not yet officially winter. It's gotten so cold hasn't it? The hat, scarf and gloves are out and it now takes even longer to leave the house! And we have a lot more stuff to take with us - I didn't even know that was possible.
Wool has been a game changer when dressing Molly. I can take her out in the cold weather knowing she's going to stay warm and comfortable. I love the outer layers the most because they can go over her normal outfit and I know she'll stay warm while we're out and I can take it off if we go inside somewhere. I know wool has properties that keep you cool as well as warm, but I can't help getting paranoid when we're indoors somewhere warm so I like being able to remove her wool layers.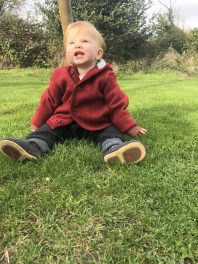 Here are some of mine and Molly's winter favourites that are getting us through the cold weather:
New Style Sturdy Wool Coat with Cuffs by Disana - I love this coat. It's super warm and cosy without being too bulky. Especially because Molly is quite petite. The coat is a little too big for her but it doesn't bulk up and the cuffs mean that the sleeves stay up on her wrists even though the arms are too long. 
Organic Boiled Wool Baby Pants with Cuffs by Disana - These pants are absolutely brilliant for the winter. When Molly is in her stroller I have a tendency to lose her blankets so I love putting these trousers over her normal outfit to keep her legs warm. It means I can use less blankets and it doesn't matter if it keeps falling off because I know her legs are kept nice and warm. They're lovely and soft, again not being too bulky. 
Childs Beanie Hat in Organic Merino Wool by Disana - This hat is great. It's soft, stretchy and the style means it will fit her for a long time. She'll barely keep a hat on but when she does she looks adorable in it. 
Knitted  Organic Merino Wool Scarf by Disana - This scarf is super soft and the perfect size for little ones. 
Dungarees in Organic Merino Wool by Disana - These are my absolute favourite item of baby clothing that exists. Molly wore them when she was little and now we're in the next size up and I still love them. They're super versatile, they can be worn with absolutely anything. They're so soft and very flexible so you can be sure that your baby is comfortable in them. The sizes are very generous so will last for a decent amount of time. Molly was wearing these last week when she had a terrible poop explosion while sitting in her car seat. The wool dungarees contained this completely protecting her car seat which I was amazed at and so grateful for. I put the dungarees in the washing machine on a wool cycle with wool detergent and they came out clean and smelling fresh. 
Baby Jumper in Organic Merino Wool Melange by Disana - I love this jumper for the same reason as the dungarees. The material is super soft and flexible and I absolutely love the colours they come in. 
Delicate Wool Blanket by Disana in Organic Merino Wool - The delicate blanket is an absolutely gorgeous baby blanket that is super soft and perfect for little newborns as well as older babies.