The story of wool began a long time ago, before recorded history, when primitive people first clothed themselves in the woolly skins of the roaming wild sheep that early hunters killed for food.  Mouflon sheep, pictured below, are thought to be the closest relatives of the earliest sheep mankind would have encountered.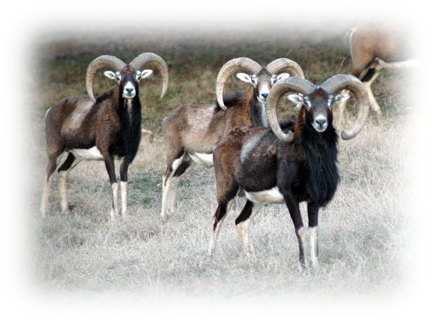 In using sheepskins, early tribes had discovered a durable fabric which gave them what nothing else could give:  protection from heat and cold, from wind and rain alike, from a fabric which kept the body cool in the heat of the day and warm in the cold of the night, and which could absorb moisture without feeling wet.
Sheep then began to be kept for both their milk and their valuable wool. When a sheep shed its fleece, it could be spun and woven into cloth. This versatile animal was probably the second to be domesticated after the dog, the perfect shepherding animal.  Sheep, the shepherd and his dog - an image which has reverberated through the ages, symbolic of gentleness and leadership, of kindness and endurance, of man and nature in harmony.  And we know that sheep have been kept and looked after and wool spun from their fleeces for over 10,000 years in Mesopotamia, Asia and parts of Europe.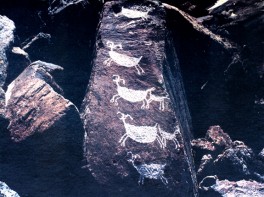 Early wool-making
Wool is a fibre man can never match. No other material, natural or man-made, has all its qualities. But we can refine and improve wool and have done so through selective breeding of sheep over the centuries and through continually improving processing techniques.
Simple processing was happening already in Northern Europe thousands of years ago.  To spin wool, early tribes they took the wool in one hand and drew it out, twisting it into a thread with the fingers of the other hand. The result was a thick uneven yarn. Later, a crude spindle was developed by fitting a stone or clay ring to the end of a short wooden stick, and such hand-spindles have become more and more sophisticated, as in this decorated Incan spindle below.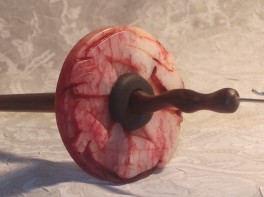 The ring acted as a flywheel and enabled the drawn-out yarn to be wound on to the spindle. This method of spinning was used for thousands of years and is still used by communities in various parts of the world to make wool yarn.
Wool - the gold on the loom
 Weaving is the earliest form of fabric-making known, pre-dating knitting and crochet which only appeared a thousand years ago.  Early looms were simple and effective, and their close cousins are in use around the world today too.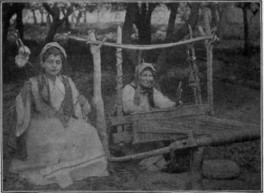 Spinning and weaving wool were of such importance in everyday life that they are central to many stories and songs that have been handed down to us, such as those below, and of such importance economically to Britain that it's fair to say our wealth stems from our woolly history.
As in this Scottish slip-jig, wool really was "gold on the loom."
"Hark as the bee hunts for treasure
That's hid in the mountainy bloom
Me shuttle goes buzzing with pleasure
To gather my gold from my loom."
Other wool songs - 
The Spinning Wheel (Mellow the Moonlight)
A Gaelic waulking song (this would have been a work song) - a shame now we listen to music while we work, rather than make music together!
And I like this polished version 🙂
~~~~~~~~~~~~~~~~~~~~~~~~
 Information adapted from the British Wool Marketing Board and the International Wool Textile Association.  Photo credits - Mouflon sheep: von Netzer Ranch, Texas.  Sheep rock art: the Bradshaw Foundation.  Inca spindle: http://ancientarchives.wordpress.com/.  Loom: http://chestofbooks.com/
 ~~~~~~~~~~~~~~~~~~~~~~~~