Nick went to St Anton skiing and came back singing the praises of wool. He was dressed head to toe in wool including his pants.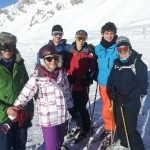 Nick's been a massive fan of Merino Wool ever since his sister discovered the benefits of Merino in New Zealand 15 years ago. This year the whole extended family was wearing Cambridge Baby base layers. The best thing about wool for skiing is that it helps you cope with large temperature changes by reducing the heat transfer between the body and the environment. His woollies kept him warm in freezing blizzard conditions but when the sun came out he didn't have to strip off  and carry any layers. He was even able to keep some of his layers on for a bit of apres ski dancing!!! Another benefit of Merino (especially untreated wool like Engel's) is that it doesn't get smelly. Merino wool reduces the opportunity for odours to develop because it absorbs sweat and evaporates it into the air. Unlike synthetic fabrics, wool doesn't retain odours and freshens up just with airing out. In addition, the outer layer of wool fibres have a high concentration of fatty acids, which have anti-bacterial properties. The inner layers of wool fibre  bind with acidic, basic and sulphurous odours that make up body odour.  Nick was able to wear all his gear even his pants for the entire week.
What Nick Wore
Pickapooh Balaclava
The teen size fits Nick. He said it was brilliant. He normally hates balaclavas, but this was super soft, didn't itch and could be rolled up into a hat when the blizzard subsided.
Wool Zip Fleece
Super warm, soft and breathable. Great for skiing and everyday wear.
Long Sleeved Merino Vest
Soft, warm, breathable layer that doesn't ad bulk and its anti-bacterial properties mean it doesn't get smelly.  Nick wears one as a base layer in winter and for cycling.
Men Wool Silk Long Johns
Soft, warm, breathable and flexible. Again these are brilliant for cycling. Nick took some synthetic long johns with him so that he could compare them with wool. But after one day's wear he found them intolerably itchy and was pleased to be back to his woollies the following day.
Wool pants
There aren't many pants you can wear for a week. Comfy, soft flexible and warm. Great for running, skiing and cycling and other sports. Their breathability may even improve your fertility compared to synthetic cycle shorts.
Lambs Wool and Alpaca sock
These make brilliant ski socks. As they are very smooth and slide easily in the boot. Alpaca wool is even warmer than sheeps wool so they'll keep your feet super toasty.