Aside from being fine, breathable and helping regulate temperature, a real benefit of Merino wool in the Summer is that it provides excellent natural sun protection.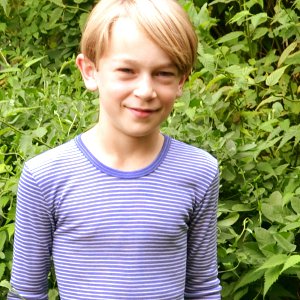 It absorbs the UV radiation before it can reach your baby or your child's skin - naturally! Here are the facts for you.  Research by Haerri et al (2000), Reinert et al (1997) and Hilfiker et al (1996)  shows that
Merino wool absorbs the UV radiation which damages skin.
Natural wool absorbs radiation throughout the entire UV spectrum even when completely untreated
This research also shows that it is far better than untreated cotton, linen, nylon, acrylic, silk and polyester.  Polyester (which many sun protection suits are made of) mainly absorbs only low-wavelength UV radiation.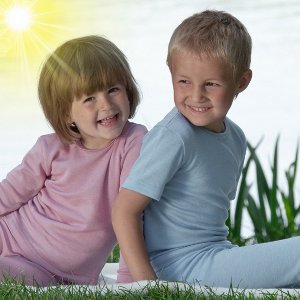 We've found ourselves that Merino wool tops are great for beach wear - they're light and breathable and easy to put on over wet bodies too - and as they're still insulating when wet, they keep any shivers at bay.   Choose from plain or striped, long-sleeved or short, round-neck or hooded or for babies.  And now we're very happy to find that the UV protection offered is unbeatable, as a separate study shows. Gamblicher et al (2001) surveyed 236 different fabrics, assessing their UV protection factor.  Merino wool came out top.
All of the Merino wool fabrics - 100 of them! - had a UPF of over 40.  This is the equivalent of slathering your skin in chemical sun tan lotion - but without the chemicals.
In contrast, the majority of other fabrics had much lower UPF, with many offering very little protection at all.
Nearly 80% of the cotton fabrics had a protection factor of less than 20.
So if you are looking for natural sun protection, a silky fine Merino wool top is the perfect way to go.  Light, breathable, soft and healthy - wonderful wool.
~ ~~  ~~~   ~~~  ~~ ~
Tags: Merino wool, sun protection, uv, wool