Midsummer isn't just one day, it's that glorious couple of weeks at the end of June/beginning of July when the whole earth just seems to blossom in white and green and gold. How wonderful and natural to want to celebrate!
We had a midsummer picnic at the weekend and it was so lovely, fun and full of happiness that I wanted to share the simple things we did.   It can be adapted for almost any time of year too.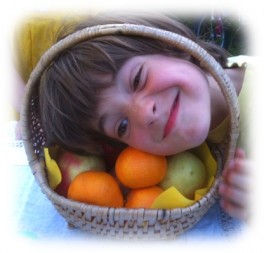 Choose a place - woodland, a field, a park - we chose our small garden for simplicity.

Invite one or two other families you love.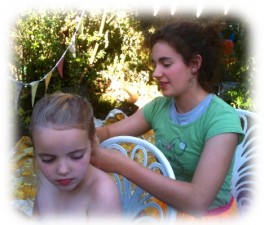 Chose a clothes code.  Ours was white, yellow or green to reflect midsummer flowers.  Children have fun with this and adults too - oversized tops or dresses can be looped with a scarf to make Greek gods or pirates.  This is Zeus below with the Daisy Queen.
Find foods that are yellow, orange or red to celebrate the sun.  Our whole family loved putting these together and making sun shapes on plates, and finding round loaves of bread or fruit.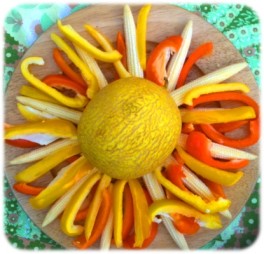 arranging food into sun shapes on the plate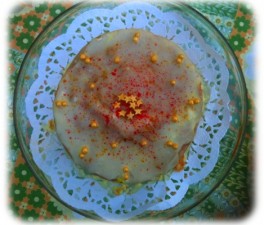 anything round is also good - this was our round, yellow cake
Pick a couple of craft ideas from the suggestions below if you like... We made a sun mosaic beforehand and the older children braided the hair of the younger ones.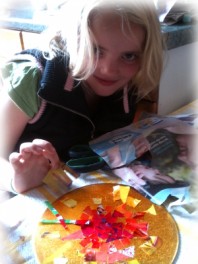 making a summer sun mosaic from old card and magazines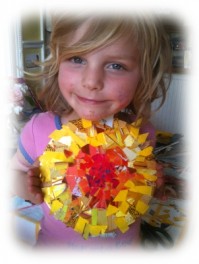 the finished sun mosaic!
You can probably tell that I'm not a naturally crafty mother and if you're not either, the great thing is it doesn't matter.  It's all about being together, doing things together and loving it, isn't it - and you can see this mosaic sun is loved!
I've enjoyed the many other ways of celebrating midsummer shared by others interested in natural parenting and connecting with the seasons.  Here are couple of them from our Pinterest boards.   Enjoy!
Helen x
~~~~~~~~~~~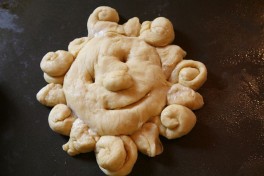 how brilliant? from http://loveinthesuburbs.com/wordpress/ways-to-celebrate-the-summer-solstice-part-1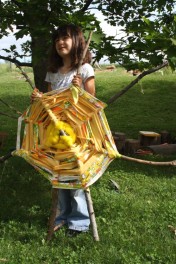 Weave a wonderful sun - see http://twigandtoadstool.blogspot.ca/2010/06/here-comes-sun-week-lets-weave-giant.html
Tags: celebrations, natural parenting