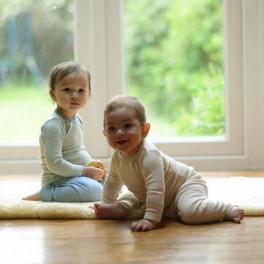 My two young children sleep in merino wool pyjamas, and I love sleeping in my Merino wool vest - I think it's the most comfortable night wear there is.  Merino wool's comfort is quite literally a gift from nature, so  I thought I'd tell you a bit more about the properties of this amazing sheep's wool.
Merino wool is 20,000 times bendier than cotton
Merino wool is so soft and stretchy that it hugs you in a really gentle way - and this is because merino wool fibres can bend up to 20,000 times more and can be extended 5 times further than cotton!  This makes it way more comfy to sleep in than cotton as it moves with your body and is still soft on your skin – cotton bedclothes tend to get scrunched up around you. It's fibres bend so easily they don't scratch, preventing the itchiness traditionally associated with wool.
(more…)