My little boy is 19 months old. He doesn't do sleeping through. Which means its a very long time since any of us had an undisturbed night of sleep. Many people, including me have said its a good job he's cute.
Luckily for me my husband is a saint and since I stopped feeding him in the night he's done the brunt of the night missions. But I still wonder if I had undisturbed sleep whether many of the daily mishaps could be avoided. Every night two or three times a night we hear plaintive cries of Mama, Dadda, and most of the time he is sitting or standing in the cot. If you don't go to him immediately (no chance to get warmly dressed) he gets worked up into a frenzy. Sometimes patting works, sometimes you've got to make the chilly trek to the fridge to get some milk and then you're really awake. What worked getting my daughter to sleep through hasn't worked for my son. We've tried most things, but at the end of the day he just loves cuddles. My neighbour wisely said you just need to work out why he's waking up in the first place. However, there seems to be no pattern. We've tried all combination of bed clothes. Cotton pyjamas, Baby grows, fleecy baby grows but still no luck.  Having heard all the claims of children sleeping through with Merino wool sleeping bags  I was going to buy him one. But he's not used to sleeping bags and cried "stuck, stuck" when I tried one.  Helen suggested
Merino wool all-in-one-Pyjamas
.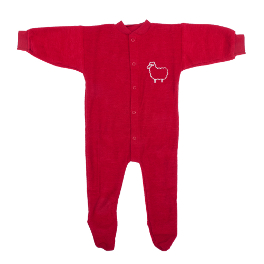 They are brilliant. A beautiful ruby red colour with a little  embroidered sheep. On the first night I dressed him in a merino wool/silk vest underneath and then the pyjamas on top. He then poured goats milk all over himself....  argh!!...  but it just brushed off without soaking in.  And so I learnt first-hand about wool's water-resistant qualities.  Another amazing thing about Merino is that although it has liquid repellent qualities, it can also absorb up to 35% of its own weight in liquid without feeling wet. Making it perfect for dribbly teething children! Anyway the best bit is that he slept all the way through - the first time ever!  What luxury for me to get rest until 6am... and my husband... and my little boy too. Whether it was the comfort, warmth or breathability of Merino I'm not sure but I cannot recommend Merino wool Pyjamas highly enough - so lovely, such relief for us all.