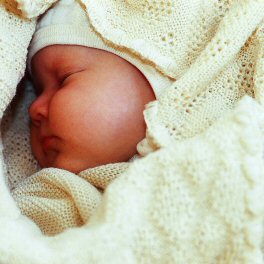 You've probably noticed we use expresssions such as "breathable" and "regulates body temperature" a lot at Cambridge Baby.  Wool is naturally an amazingly clever fibre and here you can find out how and why.
I'm going to explain how wool can
breathe, absorbing water vapour from the body and releasing it into the atmosphere
dynamically respond to the environment
help regulate temperature
clean itself (oh yes!), and
repel rain (think: sheep).
The magic of wool
The magic of wool lies in its structure. Wool consists of three layers.
The inner layer or core is keratin, a moisture-loving protein that all animal hair has. It is designed to maintain a stable body temperature - to keep the body at a comfortable and stable temperature. Think how useful this is to babies, athletes and your own day-to-day living.
The second layer is a scaly covering. The overlapping scales are tiny, but as they rub against each other they push off the dirt. So it is self-cleaning, as anyone who's put their baby in wool knows.
A wool fibre's third layer, the top layer, is a filmy skin which keeps the rain out. Wool is quite water-resistant, as duffel-coat wearers and sheep can testify.
It gets even more amazing.
Wool breathes for you
Now, the two outer layers of the wool fibre have tiny pores which allow moisture to pass through to the keratin core.  The keratin core can absorb this moisture.  So, if the temperature increases or the wearer becomes more active and begins to sweat, the moisture is wicked from the skin through the outer layers of the wool fibre into the central core. Then, your natural body heat then wicks it out towards the surface, where it is released into the atmosphere. In this way, it helps you and your baby maintain a stable temperature and keeps you and your baby dry and comfortable by absorbing and releasing sweat.
And wool is dynamic
Wool even does this breathing process "dynamically", which means it does it more when needed, and less when not needed.   It responds to the environment around it and does what's needed to the best of its ability. It's just the best thing, don't you think? No man-made fibre can equal this.
Looking after your wool
To keep these abilities, wool does need to be looked after. But with 99% of washing machines now having a wool cycle, this is quite easy. Just use a liquid detergent for wool, or a drop of your own shampoo, and set the temperature on your wool cycle to 30C and dry away from direct heat. Because wool is self-cleaning, wool clothes that haven't been treated can be hung out on the line and "aired" and will start cleaning and de-smelling themselves. In the next blog articles, I'll explain more of the wonders of wool: how wool is also naturally antibacterial, how it absorbs water without feeling wet, why it's stretchy and easy to wear, why it's fire-resistant and more.
Tags: wool