When my first daughter was born, I got some handmade woollen hand-me downs, gorgeous tiny knitted cardigans and precious booties. They were made of the softest yarn in pastel colours with intricate lacy patterns. They were stunningly beautiful... and I despised them. I found them outrageous. They embodied everything that was wrong with parenting these days! I was, of course, extremely young and extremely foolish.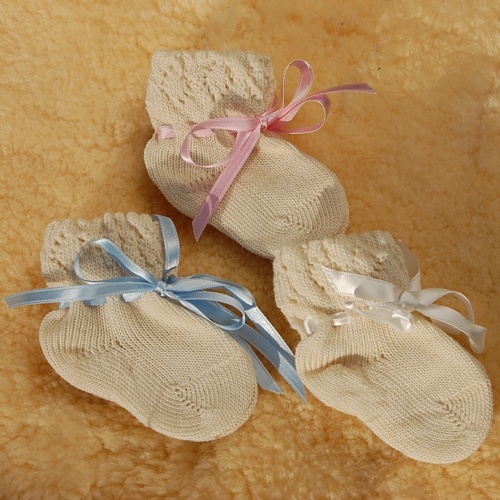 Don't get me wrong, I appreciated their beauty and the fact that they had been made with love, but I bemoaned their lack of practicality. Hand wash only! For a baby! As if new parents had time for that. To me, Hand Wash Only was a dreaded label that should be avoided at all costs. I grew up in a tropical climate so there was never a wool culture in my home. My mother was a power professional who always had her suits dry-cleaned. The few delicates that escaped her strict "no hand-wash garments" policy piled up at the bottom of the dirty clothes hamper for weeks on end. Once they reached a critical mass, mum would grudgingly fish them out and scrub them with a vengeance. Thinking back, they would have probably fared better in the machine.
In my early twenties I left home to study in Ireland, a move for which neither my mind nor my wardrobe were prepared. Just before I left, my wise mother bought me an under-shirt, the first I'd ever owned. It was a gorgeously soft blend of merino wool and silk and it was machine washable! Oh, how I loved that shirt. And yet, it never occurred to me to buy more woollen clothes, maybe because I was a broke college student and I weighed any purchase against how many Tesco Value ramen I would be able to afford with that money. Had I been a little wiser I would have saved myself more than one nasty cold.
It wasn't until after I became a mother that I started to learn the importance of surrounding and dressing ourselves with natural materials. I did a lot of online research and was lucky to meet a few like-minded mothers who taught me more than I ever thought I could possibly learn. One lesson in particular stands out in my mind. My friend and I were having lunch with our toddlers and her 8-month-old baby. Dessert was fresh mango and the baby ate it with gusto. And by "ate it" I mean poked it, squished it and rubbed it all over her face, with the yellow juices running down her arm and chin onto her white knitted cardigan. Seeing this, I joked to my friend "I hope that cardigan isn't hand wash only". She looked at me with genuine puzzlement: "Yes, it is. Why?" I was aghast. Wasn't it obvious? "Isn't it… too much of a hassle?" I asked. "Not at all!" she answered nonchalantly. "I'm staying at my mum's tonight and she doesn't have proper wool detergent but baby shampoo works in a pinch. I'll just give it a rinse in the sink while the girls are having their bath, it'll be dry by tomorrow".
That was it? Could it really be so simple? If you grew up wearing wool you're probably laughing at me right now, but it really took a while to wrap my head around the fact that hand-washing didn't need to be a huge affair. I started researching and began to understand. Wool is antibacterial! Wool repels stains! No scrubbing your knuckles raw, you just need to let it soak in soapy water and rub stains gently. It dries super fast. And some wool is even machine washable!
After this eye-opening experience, I tentatively ordered my daughter's first pair of woollen pyjamas… and I fell in love. Caring for them was as easy as everybody promised it would be, and never again did I need to worry that my baby was too hot or too cold at night. No more icy hands, no more sweaty foreheads thanks to wool's property of thermoregulation, which I believe is a fancy word for "mama, don't fret". By the time my son was born I was a convert… and I found myself wishing I hadn't returned those handknit woolies that I used to hate so much. They were pink and purple and frilly… but I would have put them on him anyway, and he would have been happy.
Lorena Díaz García. ( A Cambridge Baby customer)