Llamas and alpacas look very similar and are closely related, but there are a number of differences between them .   These differences stem from how they have been used and bred over thousands of years of farming in South America.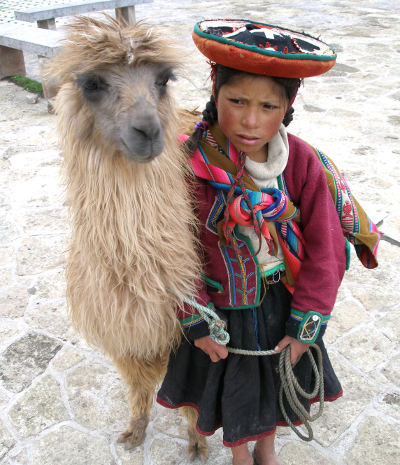 A young Quechuan girl with her llama, which are stronger and less woolly than alpaca.
Alpaca have been bred for their fibre - which can be super-soft, light, airy and warm.  It's truly the fibre of Incan royalty and we at Cambridge Baby keep expanding our range of alpaca clothing as its durable, and up to 7 times lighter than wool for its warmth.
Llamas, in contrast, have been bred as useful, working farm animals - to carry loads, and to guard other livestock.  So they are stronger and larger than the pretty alpaca, and rather less furry to look at.  They are also quite independent-minded, whereas alpaca prefer to be in herds, rather like sheep.  If you look at their faces in the photos above and below, you can see the differences.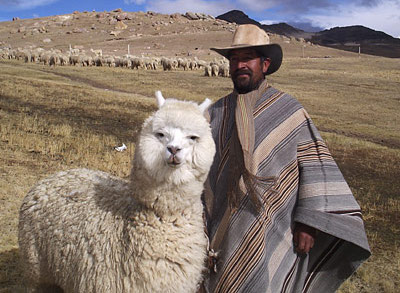 Alpaca, bred for their fibre, are smaller and more woolly than llama.
But we discovered recently that Llama fibre can be just as lovely as alpaca.  A fleece consists of two layers, the guard layer, which is strong and straight, and makes good rope, while underneath  is the super-soft layer of down.  These are the fluffy fibres which make excellent clothing and, like alpaca, can be as fine or finer than cashmere, under 20 micron.  They usually have a hollow core, which gives extra insulating warmth, and a crimp (a kind of zig-zagging of the fibre) like merino wool, which also adds insulation.
Should alpaca and llama hair be called "wool"?  Most people say that it's not technically wool and should be referred to as fibre, but some say that it's fine to call it wool after it's shorn.  So, take your pick!
Alpaca and llama fibre, like most animal and human hair and wool, should be cared for gently.  There's not need to wash very often and the "wear then air" strategy works well.  If the times comes to wash it, use detergents designed for delicates, wash gently and dry away from direct heat.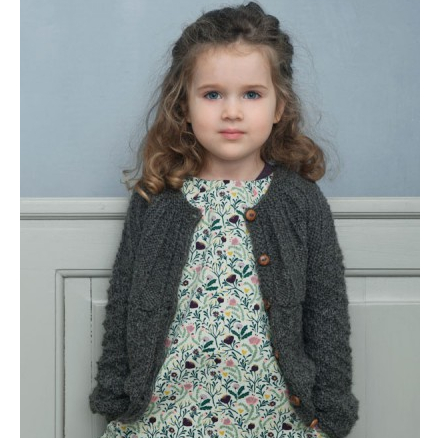 We're lucky to now be stocking a hand-knitted llama cardigan for kids in sizes from 2 to 11 years.  We hope you enjoy it!
.....