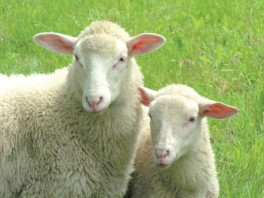 Does organic certification take into account animal welfare? or does it simply mean free from chemicals?
One of our customers recently asked us this, and the answer is yes - organic wool does ensure high standards of animal welfare.
The majority of organic clothes are certified to the Global Organic Textile Standard, GOTS.   GOTS includes the manufacturing of the textile; however, in order for clothes to be GOTS-certified the fibre itself (wool) has to be certified by an organic certification body like the Soil Association.
The Soil Association (one of the certifiers of the organic wool we sell) say this about animal welfare.
Organic supports better animal welfare. Organic sheep are reared, fed, sheltered and transported with consideration for their wellbeing. Cruel practices are prohibited and animal stress is minimised. Organic farmers take a preventative approach to disease, so animals are not routinely treated with antibiotics, wormers or pesticides. Organic animals are reared on organic feed and grazed on organic land, and are free to pursue their natural behaviour with plenty of space outside and a free range life.
From my own experience Organic farmers care deeply about animal welfare. The higher price they receive for organic wool enables them to farm in a sustainable, low intensity way that is better for the animals and the environment.