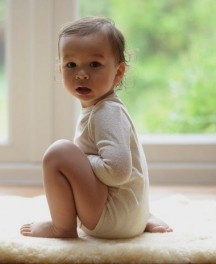 So, what's biodynamic, organic silk all about?  And what are its benefits to you and the world?
Near ChengDu in China is a biodynamic regeneration project, bringing traditional silk-making skills back to the region. We were very excited to discover this project, and their excellent quality silk clothes for babies and women, which are certified as organic by the IMO (Institute for Market Ecology).
There are several reasons why we chose this range. First of all, silk is excellent for the skin - it's gentle, insulating and breathable, which is why it's been considered for generations and across cultures as the ideal next-to-the-skin layer. So for babies, it's absolutely wonderful!
Alkena silk is extra-special.  The mulberry leaves which form the diet of the Bombix Mori silkworm are organically grown, and the combination of the high-quality diet, the best silkworm and traditional community skills creates the most excellent silk.
Alkena silk is fair, organic silk
We also value the emphasis the Sichuan Alkena project has on community and social responsibility.
Alkena are "IMO-certified as per Social and Fair Trade Program" which means that they respect the International Labour Organisation conventions and the Fair Wear Code. For example, fixed prices and supply contracts are in place to avoid exploitation and ensure stability.  Alkena also accepts voluntarily a third party's audit on its labour conditions.
As the organically-grown mulberry bushes flourish on less productive land,  the extra business brought in by the project brings direct additional economic benefits - without displacing land set aside for food crops.
At Cambridge Baby we particularly like the fact that this silk project encourages biodiversity; they have already planted hundreds of fruit trees and over 5000 other trees alongside the mulberry bushes.
Organic, eco-friendly silk
All of Alkena's silk production processes - knitting, weaving, dyeing, printing and sewing - are annually inspected and monitored by IMO against Global Organic Textile Standards (Version 02).  The silk meets GOTS standards and is certified by IMO as organic.  You can be sure, therefore, that there are no toxic chemicals being released into the environment in the process, and none, therefore, to come into contact with your or your baby's skin.
All aspects of clothing production are undertaken with the environment in mind.  In their dying process for example, Alkena use Clariant reactive dyestuffs which are free from heavy metals and toxins.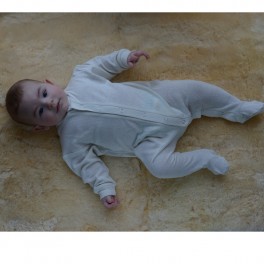 A little history
Alkena was founded in 1996 by Wang Qing and Wolfgang Hofer around the idea of organic silk, and in 1998 its first organic silk farming base was born.
It took five years of research and hard work on soil, livestock, compost, plant-based preparations and the mulberry bushes for Alkena to finally obtain the IMO organic silk certificate in 2003. It was the first of its kind in the world!
Sichuan Alkena harvested the first batch of organic silk cocoons in the spring of 2003.
Since then, Alkena has successfully developed additional regeneration projects along the same lines: the Zitong, Shitou and Zishui biodynamic projects.  It's a wonderful success story 🙂