The
News is in, and it is official...  the best seller this Autumn/Winter season has been the
Merino Wool Trousers or Leggings by Disana
. Disana is one of our all-round top brands - so what are they doing right, and what makes them so special? Disana began 25 years ago - in a garage.  When they started their company, Dieter and Imma Sautter combined their initials D and I with the word Sana, which is the name of the ancient goddess of health and healing – very apt for Disana's natural ethos. Disana now supply shops around the world with
organic wool baby and children's clothes
and is still growing steadily, carrying with them this vision of health and healing through clothing.
Secrets of success
Disana are committed to high quality, natural raw materials and specialise in organic Merino wool.  They are a founding member of the International Association of Natural Textiles (IVN) and are proud of its guidelines for natural textile production; these are recognised as the most comprehensive, strictest guidelines in the world.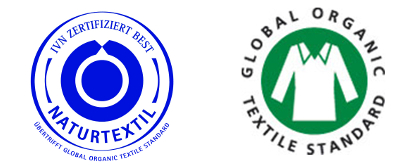 In fact, Disana was one of the very first companies to have most of its clothing
certified by IVN as BEST
, indicating organic textiles of the highest ecological quality.  Its range is also
GOTS certified as organic
too at a time when organic wool is still hard to come by.
Fairly made and traded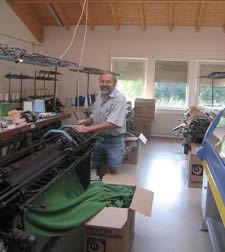 Disana's commitment to high standards includes fairness throughout the supply chain and their excellent craftsmanship shows throughout their organic clothing range. The fabrics used in
Disana's wool clothing
are produced either
at their premises
or within a 100km radius in long-term partner factories, ensuring good working conditions and making for good relationships and excellent quality control.  This is Herr Heinz Munz in the workshop, who is very proud to be in our blog 🙂 And as you can probably guess, everything that goes into each piece of clothing is is subject to strict regulations, from the sewing thread and buttons to even the lubricating oil in the knitting machines - everything must be environmentally friendly.
Designed for little ones

Each Disana piece is designed to keep a little one comfortable and healthy, which makes Disana stand out from the crowd when it comes to design.   For them it's all about the baby, the baby's comfort, health, freedom to wriggle, crawl or walk. Disana's clothes allow the skin to breathe and the body to relax, and parents to know that their little one is being looked after by
real living wool
. So, thank you to Disana for providing us with the choice of natural, healthy and sustainable clothing.  We at Cambridge Baby and Good Natured Clothing love what you do, you're totally in accord with our ethics and we are proud to carry your organic wool clothes.   ♥
----------------------------------
Win a £20 Gift Voucher!  Comment on this or any of our blog posts in March, and we'll randomly select a winner on 1st April.  Share or link to a blog post for bonus entries!
---------------------------------